London – Lilies of the Valley by Sir William Nicholson (1872-1949) topped Bonhams Modern British and Irish Art Sale in London on Wednesday 24 November. The work was painted in 1927 and critics have noted its atypical 'radiant sweetness' as well as the boldness of the brushstrokes and the layering of tones. It sold for £237,750 having been estimated at £60,000-80,000. The sale made a total of £2,484,083 with 82% sold by lot and 92% sold by value.
Bonhams Director of Modern British and Irish Art, Matthew Bradbury, said: "This has been an exceptionally strong sale and the high prices across the board and keen competitive bidding for all the key works demonstrate the continued health of the market for good quality Modern British and Irish Art."
Other highlights included: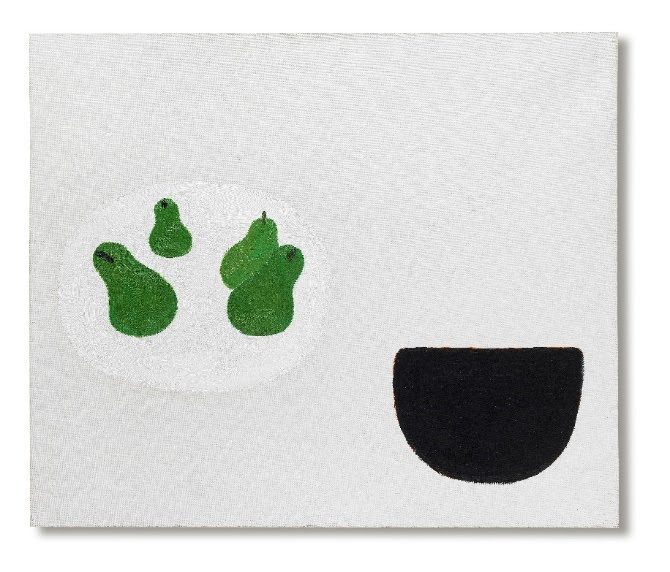 Four Pears by William Scott (1913-1989). Painted in 1976 the work was extensively exhibited in South America in the late 1970s. It was inspired by a pear tree growing outside the artist's studio at Coleford in Gloucestershire. The painting has not been seen in public since it was exhibited at Irish Art in the Seventies: The International Connection in 1980. Sold for £187,750 (estimate: £150,000-250,000).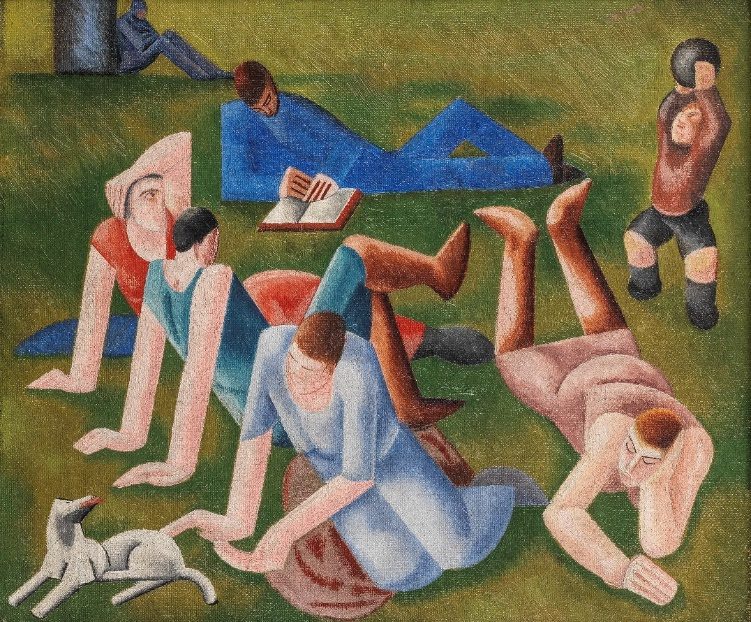 In the Park by William Roberts. Painted around 1925, the work is among a group of pictures from the first half of the 1920s that can be said to have connections to the artist's own life. On his return in 1918 from war service in France both as a combatant and later a War Artist, Roberts settled down with his long-term girl-friend Susan Kramar. A child was born in 1919, followed by marriage in 1922 and families began to appear in his work – The Poor Family (1921-22, for example, and Happy Family of 1924. Sold for £162,750 (estimate: £70,000-100,000).
Soft Discs in Red: September 1962 by Patrick Heron (1920-1999). The work was purchased in 1963 by a foremost modernist British architect and has remained in the same family collection ever since. The architect forged relationships with many well-known artists (including Louis le Brocquy, Graham Sutherland, Augustus John, Sir Eduardo Paolozzi and Keith Vaughan) and Patrick Heron had become a close acquaintance. Sold for £137,750 (estimate £100,000-150,000).
Landscape by Michael Andrews (1928-1995). Although the painting is undated and the precise location unknown, the topography suggests Digswell in Hertfordshire which appears in other of Andrews' works. In Landscape the artist has employed economic yet varied mark making to describe a road leading the eye to a small cluster of rural buildings and telephone poles. Sold for £162,750 (estimate £50,000-80,000).
Purple Hills by Paul Henry (1876-1958). Painted between 1932-1940, this work demonstrates why Henry is regarded at the finest Irish modern landscape artist. Renowned for his Post-Impressionist evocative depictions of the West of Ireland, the artist gets to the essence of his subject, observing things in simple, direct terms and setting them down harmoniously in closely modulated tones. Sold for £106,500 (estimate: £50,000-80,000).