ON VIEW. April 18 – May 23, 2020. COREY HELFORD GALLERY. 571 S. Anderson St. Los Angeles, CA 90033. Open Tuesday-Saturday, 12pm – 6pm. (310) 287-2340
On Saturday, April 18th, downtown Los Angeles' Corey Helford Gallery proudly unveils their next major group exhibition and most whimsical one yet with Fantastical Beasts, featuring over 50 artists from across the globe.
Fantastical beasts have captured our imagination throughout history. Creatures like dragons, griffins and unicorns were the cultural ancestors of natural histories, zoos, and Darwin; of My Little Pony and Animal Planet. Some have their origin in traditional mythology and were believed to be real creatures, while others were based on real encounters. One function of mythical animals was allegory. Unicorns (innocence and purity) were described as extraordinarily swift and uncatchable by traditional methods. Today, we find them in every art form including films, television, literature, comics, superheroes, Anime, and more.
Regarding her contribution to the group show, Los Angeles-based artist Kristen Liu-Wong shares: "My piece 'The Last Stand' [seen below] was inspired by the Unicorn Tapestries, specifically the tapestry featuring 'The Killing of the Unicorn.' It is such a poignant moment in the narrative and I wanted to try my own interpretation of this event. The creatures of the forest weep silent tears of fear and helplessness as they witness the cruel attack that stains the beauty of the forest, usually a sanctuary for the unicorn and her companions. Despite the countless arrows and wounds that drain them of their life, they fight back?in the original tapestry the unicorn has no defender but in my version I wanted to offer viewers a glimmer of hope, even if it comes only in the form of a friend in death. I loaded the environment with ornamental details (such as flowers and fruiting trees) and attempt to mimic the ornateness and rich beauty of the original tapestries."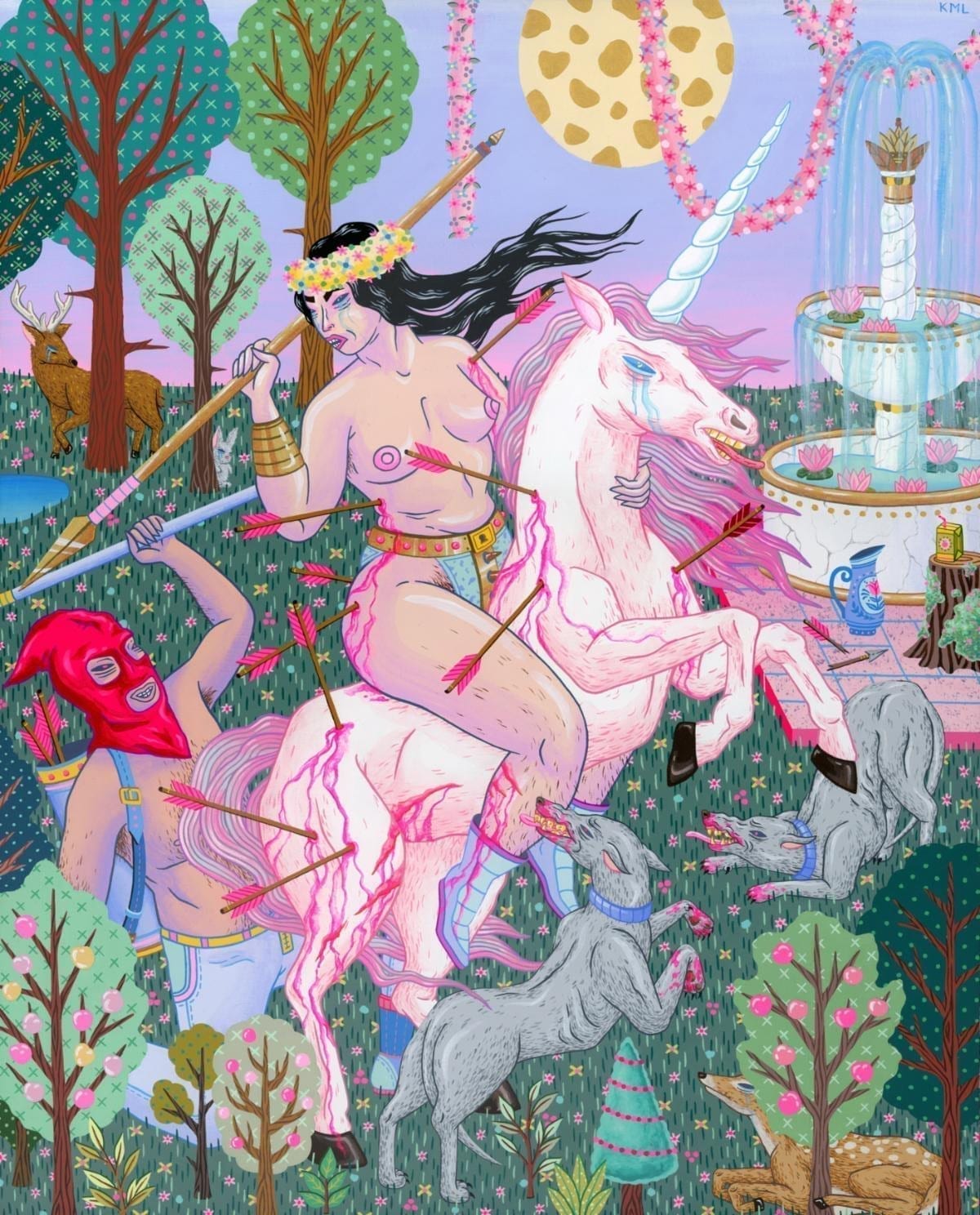 Shares participating artist Rodolfo Loaiza, "Mythological stories such as, War with the Lapiths, Hercules and Centaurs, Chiron, a Kindly Centaur, and Pan the God of the Wild motivated the development of my piece 'Savage Glory' [seen below]. I returned to the color palette of The Pastoral Symphony (Fantasia, 1940) and mythical Disney characters, such as Hercules and the princesses transformed into Amazonian centaurs."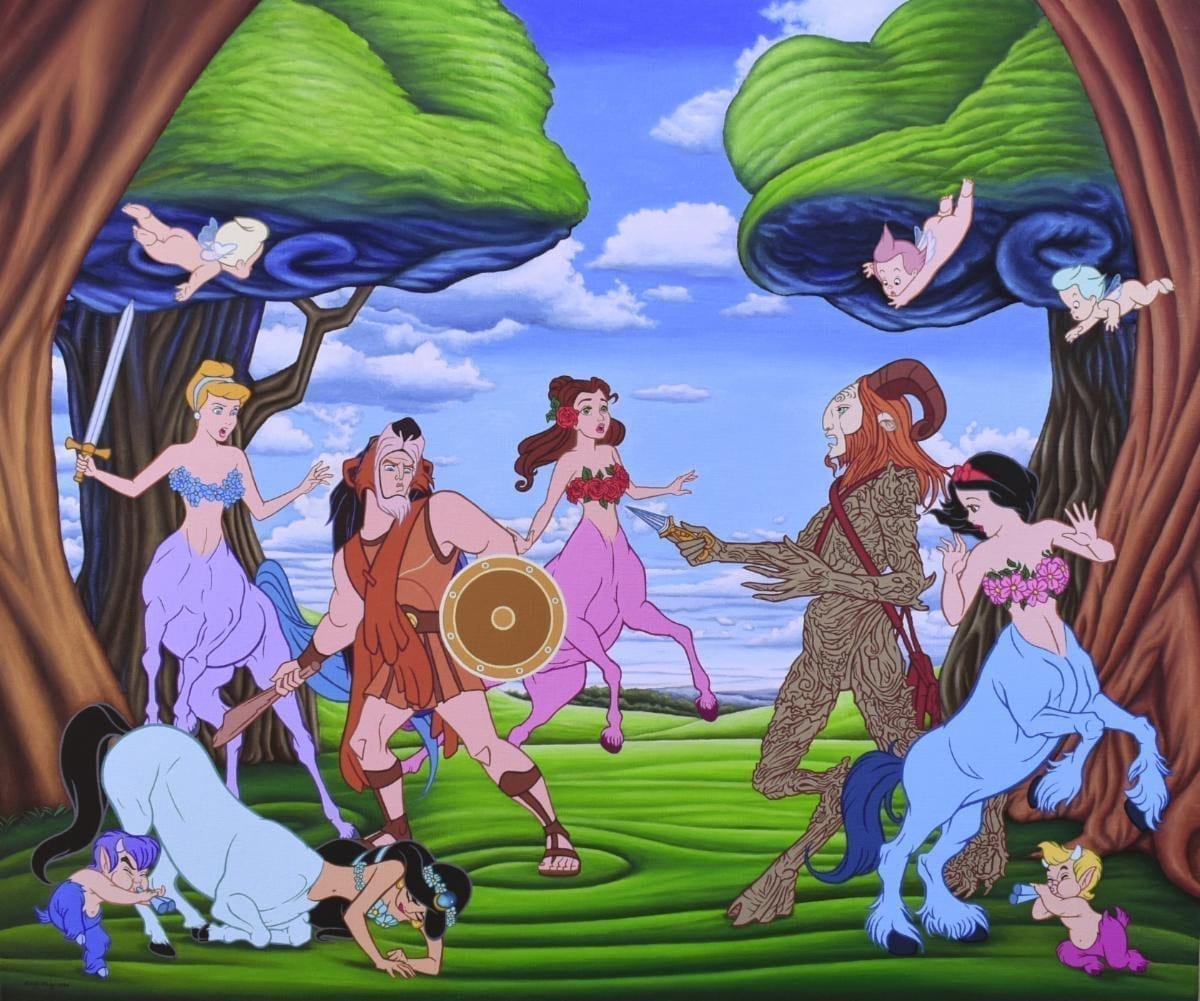 Lauren Marx adds, "Unicorns are being used in my recent work as a symbolic animal of happiness, calm, and transformation, all things I've thought at times were impossible for me, much like the existence of unicorns themselves. My piece 'Alicorn' [seen below] was made up from my anatomical memory. Not a single reference was used for anything in the drawing. The actual concept of the piece is my love of wanting to draw unicorns fighting demons. Good old 'good vs. evil' in this piece, the winged unicorn (also called an 'Alicorn' apparently) is slaying a little dragon."
Fantastical Beasts premieres Saturday, April 18th, alongside a solo show from Ewa Pro?czuk-Kuziak, entitled Happiness is Easy, and a solo show from Yoko d'Holbachie, entitled Flowers. Corey Helford Gallery is located at 571 S. Anderson St. Los Angeles, CA 90033 and normal hours are Tuesday – Saturday, from 12:00 pm – 6:00 pm.
Please note: In order to keep our family of artists, collectors and staff safe, and in compliance with the COVID-19 statewide mandate, the physical gallery will remain closed until further notice. Previews for our three shows premiering April 18th are available by request by emailing jch@coreyhelfordgallery.com. We are grateful for your patience and support while we stick together and power through this.
About Corey Helford Gallery:
Corey Helford Gallery (CHG) was first established in 2006 by Jan Corey Helford and her husband, television producer and creator, Bruce Helford (The Conners, Anger Management, The Drew Carey Show, George Lopez) and has since evolved into one of the premier galleries of New Contemporary art. Its goals as an institution are the support and growth of young and emerging, to well-known and internationally established artists. CHG represents a diverse collection of international artists, primarily influenced by today's pop culture and collectively encompassing style genres such as New Figurative Art, Pop Surrealism, Neo Pop, Graffiti and Street Art. CHG is located in Downtown Los Angeles in a robust 12,000 square foot building presenting new exhibitions approximately every six weeks. For more info and an upcoming exhibition schedule, visit CoreyHelfordGallery.com and connect on Facebook, Twitter, Instagram, and YouTube.