This will be Zandile Tshabalala's first solo exhibition with Unit London. Tshabalala is a South African painter, born and raised in Soweto, who is interested in topics of representation. Tshabalala's work strives to challenge traditional art historical representations of the Black woman
Unit London is excited to announce an upcoming solo exhibition with Zandile Tshabalala, opening in July 2021. The exhibition will continue the artist's exploration into ideas of representation, identity and visual histories. In particular, Tshabalala's artwork delves into the history of the representation of Black women throughout traditional artistic canons. After embarking on her own research, Tshabalala was struck by the near complete absence of the Black woman within the vast history of visual representation. The artist noticed that these figures were typically discounted altogether or pushed right into the background, restricted to positions of inferiority and subservience. For the artist, it became crucially important to challenge this overwhelming trend. In response to this vast visual mainstream, in which Black women and their narratives were kept in the shadows or excluded completely, Tshabalala creates visually arresting works that depart from the conventional depictions of subordination and undesirability.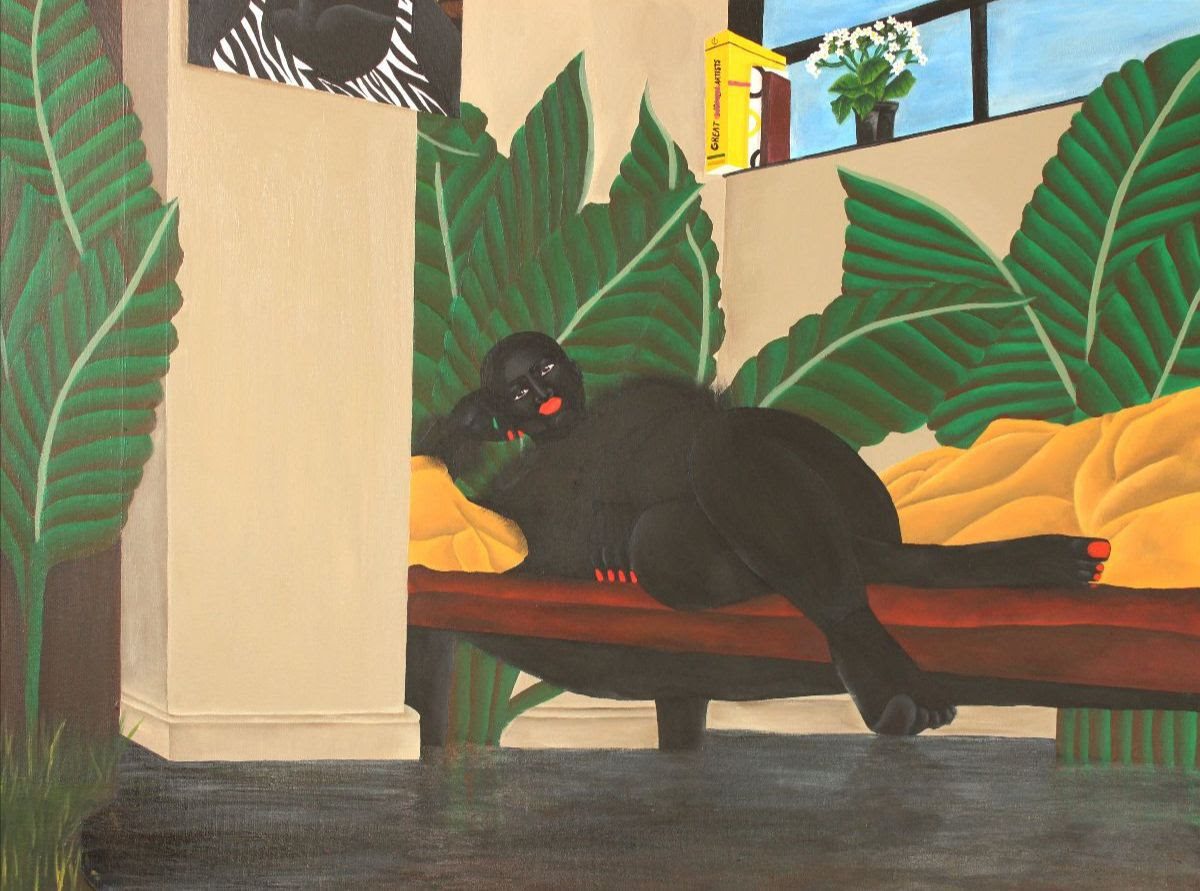 Instead, Tshabalala presents autonomous and self-assured figures in states of repose, ease and strength. Her figurative works depict independent women in positions of confidence and in control of their own bodies, minds and sexuality. The artist's figures even take charge of their relationship with the viewer, unapologetically leading and directing this exchange of gazes with a sense of calm and composure. Tshabalala's works are equally visually compelling, combining vivid hues with vibrant tropical backgrounds and animal print patterns to convey a sensual and ethereal dream world.
Throughout her own oeuvre, Tshabalala tends to reference the works of artists who have preceded her, interpreting and reimagining these varying aesthetics to fit with her own narrative. In particular, she has been inspired by the works of Kerry James Marshall, Njideka Akunyili-Crosby, Cinga Samson and Nandipha Mntambo. Another key artistic influence is the French painter Henri Rousseau. Tshabalala relates to the dreamy qualities of Rousseau's works, highlighting that visual art can transport viewers to different otherworldly realms.