Talley Dunn Gallery is delighted to announce the representation of renowned and distinctly revered artist Sedrick Huckaby. From monumental portraits of family and friends to intimate, handheld paintings of those closest to the artist, Huckaby's art is deeply personal and powerful, as the artist channels the rich complexities of each of his subjects. It is the African American family and its heritage which Huckaby celebrates and elevates through his artwork. Throughout his practice, Huckaby's attention has centered upon his intention to "send the message that ordinary people, who may not be great in society's eyes, should be of paramount importance to us."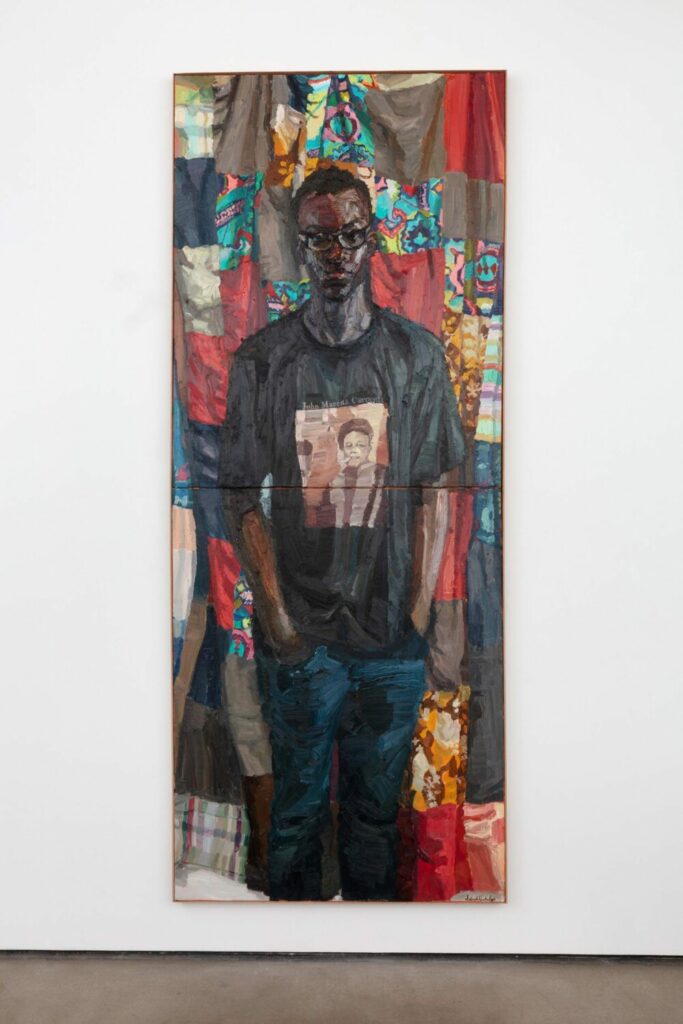 "I believe my paintings are done in a language more closely in tune with my soul than the language of my tongue."

Sedrick Huckaby
Through a variety of media which includes painting, sculpture, and drawing, Huckaby uninhibitedly taps the inner life of his subjects as well as their generational histories. The artist relishes his connection to and conversations with each of his subjects from family members to everyday people in his community. From a quick drawing of a stranger to a larger-than-life portrait of a family member, Huckaby welcomes every encounter with his subjects and their interactions. Preferring for his subjects to sit for him for just a few minutes for a sketch or days on end for a painting, the relationship between artist and subject becomes a process that allows Huckaby to transcend what he sees directly in front of him. Huckaby's interest in each person he portrays transcends the picture plane with an emotional and psychological depth. Huckaby states, "I believe my paintings are done in a language more closely in tune with my soul than the language of my tongue."
Widely celebrated for his compelling paintings, Huckaby paints in abounding and emotive strokes of impasto that aggrandize the everyday while elevating the individuals and objects that he depicts. Huckaby is critically acclaimed for his paintings of monumental scale with the largest thus far being his 80-foot-long, four-part A Love Supreme, which was painted over a period of eight years and for which Huckaby was awarded a Guggenheim Fellowship.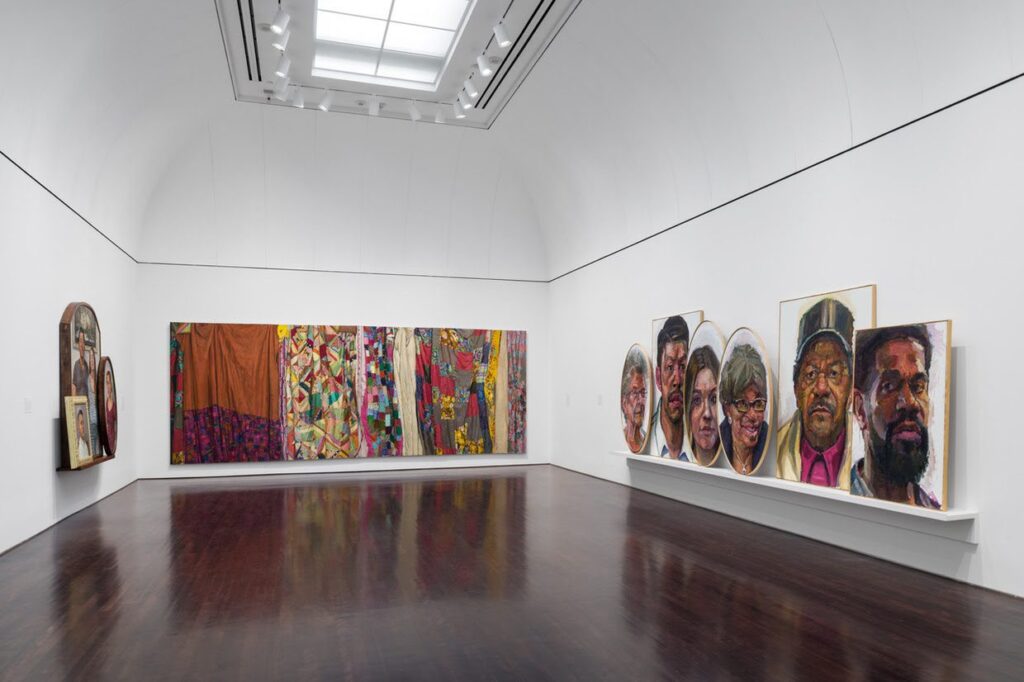 Sedrick Huckaby was born in 1975 in Fort Worth, Texas. His formal arts training began at Texas Wesleyan University in Fort Worth, where he studied with Ron Tomlinson and Jack Barnett. He completed his BFA at Boston University in 1997. He received his MFA at Yale University in 1999. Upon graduating, Huckaby used a traveling grant he received from Yale to explore France, Italy, and Spain for two years to study the "old masters." After his European residency, Huckaby settled back in his hometown of Fort Worth, Texas, where he continues to live and work. Huckaby has been the recipient of numerous prestigious awards including a Guggenheim Award, Joan Mitchell Foundation Grant, American Academy of Arts and Letters Award, and a Lewis Comfort Tiffany Award. Most recently, he was named the Texas State Artist for 2018, and was a finalist in the 2019 Outwin Boochever Competition Exhibition administered by the Smithsonian National Portrait Gallery.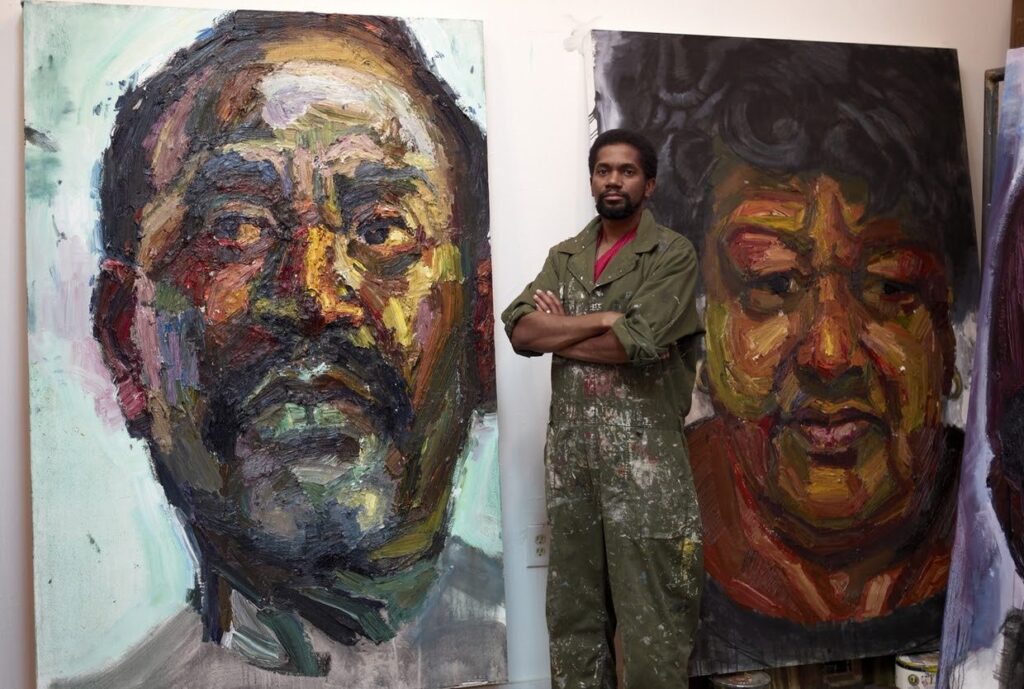 His works are in the collections of the American Embassy, Namibia; San Francisco Museum of Modern Art; Amon Carter Museum of American Art, Fort Worth, TX; African American Museum, Dallas, TX; McNay Art Museum, San Antonio, TX; Minneapolis Institute of Arts, MN; Museum of Fine Arts, Boston, MA; Nasher Museum of Art at Duke University, Durham, NC; Whitney Museum of American Art, New York, NY; and the Tyler Museum of Art, Tyler, TX. Huckaby has participated in several print residencies, including Brandywine Workshop with his series The 99%. This series of one hundred and one individualized lithographs entered the collection of the Amon Carter Museum of American Art in 2015, initiating their practice of collecting contemporary works on paper. Huckaby has had exhibition catalogues published by the Walton Arts Center, Art Museum of Southeast Texas, and the Tyler Museum of Art.