On Saturday, November 6th, downtown Los Angeles' Corey Helford Gallery(CHG) will proudly unveil a new solo show from Canadian illustrator and designer Bennett Slater, entitled Giving up the Ghost, in Gallery 2. The new series marks Slater's second solo at the gallery, following last November's show Homemade Easy.
Slater's work is heavily inspired by pop culture elements and drawn from the relationships the future shares with the past, the new from the old, life from death. Utilizing traditional oil methods on wood, his work plays with techniques borrowed from Flemish and Dutch master disciplines, combined with bold, geometric forms linked to more contemporary futurism and deco sensibilities. This dichotomy of contrasting artistic disciplines and influences lends itself to the underlying dualities observed in his work.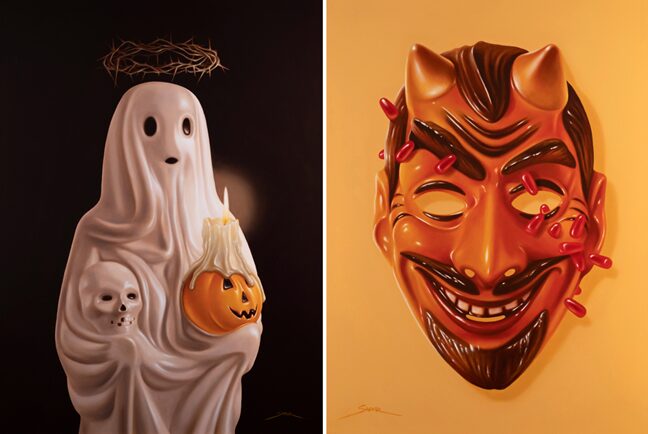 Regarding his new series Giving up the Ghost, Slater shares, "From the time people worshiped in the sun, there have been those who linger in its shadows. The dark holds many secrets, and throughout time, there have always been those attempting to unlock them. Pagan omens, superstitions, and rituals remain woven in the fabric our world- simply adapted with the time. The iron of the cauldron is now blow-mold plastic…but our dark curiosity remains.
This new series conjures idols and symbols from ancient folklore and myth, and clashes it against the kitschy hollow plastic and colorful candy shell of our most celebrated modern pagan ritual: Halloween. This is my largest solo body of work to-date and was a thrilling challenge to create. The collection is subdivided into three smaller series: five pieces dedicated to folklore and myth, five pieces exploring the many incarnations of Lucifer, and the final ten pieces are an exploration of our contemporary, candy-coated experience. I am fascinated by the journey these creatures and symbols have gone on, from darker, more sinister roots, to an accepted celebration of creatures and candy.
Studying through ancient symbology and mystic folklore has long been of deep interest to me, matched only by my deep love for the tradition of Halloween and the plastic flashiness of kitsch culture from the 60s and 70s."
Giving up the Ghost opens Saturday, November 6th from 7:00 pm – 10:00 pm in Gallery 2, alongside a solo show from Hera of HERAKUT, entitled Hera We Go Again, in the Main Gallery.
CHG will be requiring proof of COVID-19 vaccination as a condition of entry into the gallery, plus guest temperatures will be checked and masks will be required. 200 people at a time will be allowed into the gallery's 12,000 square foot space, which will be monitored by CHG's staff. After opening night, CHG returns to their regular visiting hours (Thursday through Saturday from 12:00 pm – 6:00 pm).
About Bennett Slater:
Bennett Slater is a fine artist working out of Toronto, Canada. Utilizing traditional oil methods on wood panels, his influences range from the rich depth of the Dutch masters to gaudy flash of B-movies, from Van Dyck to Vincent Price, his work often explores dualities between classic and contemporary idols and symbology. This dichotomy of contrasting artistic disciplines and influences lends itself to the underlying dualities observed in his work.
About Corey Helford Gallery:
Established in 2006 by Jan Corey Helford and her husband, television producer/creator Bruce Helford (The Conners, Anger Management, The Drew Carey Show, and George Lopez), Corey Helford Gallery (CHG) has since evolved into one of the premier galleries of New Contemporary art. Its goal as an institution is supporting the growth of artists, from the young and emerging, to the well-known and internationally established. CHG represents a diverse collection of international artists, primarily influenced by today's pop culture and collectively encompassing style genres such as New Figurative Art, Pop Surrealism, Neo Pop, Graffiti, and Street Art. Located in downtown Los Angeles at 571 S. Anderson St. Los Angeles, CA 90033, in a robust 12,000 square foot building, CHG presents new exhibitions approximately every six weeks. The gallery is open Tuesday through Saturday from 12:00 pm – 6:00 pm, with visiting hours being Thursday through Saturday from 12:00 pm – 6:00 pm. For more info and an upcoming exhibition schedule, visit CoreyHelfordGallery.com and follow on Facebook, Twitter, Instagram, and YouTube. For available prints from CHG, visit CHGPrints.com.