Magnolia is a 1999 drama movie written and directed by Paul Thomas Anderson (There Will Be Blood) with Tom Cruise and Julianne Moore.
Plot
In a single day in Los Angeles, a number of interconnected lives are changed forever. A lonely police officer (John C. Reilly) falls in love with a disturbed cocaine addict (Melora Walters). Her father (Philip Baker Hall), the host of the game show "What Do Kids Know?" has terminal cancer and tries to make amends for his past mistakes. A former champion of the show (William H. Macy) struggles to find love while the current champion (Jeremy Blackman) suffocates under the pressures of being a boy genius. An elderly man (Jason Robards) lies on his deathbed, tended by nurse Phil Parma (Philip Seymour Hoffman), while his trophy wife (Julianne Moore) wrestles with grief and guilt, and his estranged son (Tom Cruise), an infomercial host, teaches workshops on how to trick women into having sex. Throughout all of this, past deeds are lamented and strange forces loom in the air. (Filmaffinity)
Movie Reviews
Magnolia' is a remarkably inventive and audacious film that almost overcomes its flaws.

Emanuel Levy: Variety
Over-ambitious, self-conscious, self-indulgent, self-important and clumsy into the bargain. But it's also one of the most enthralling and exhilarating American movies in ages.

Derek Adams: Time Out
The most imperfect of the year's best movies, Magnolia's flaws are easily forgiven because they are the result of go-for-broke ambition.

Mike Clark: USA Today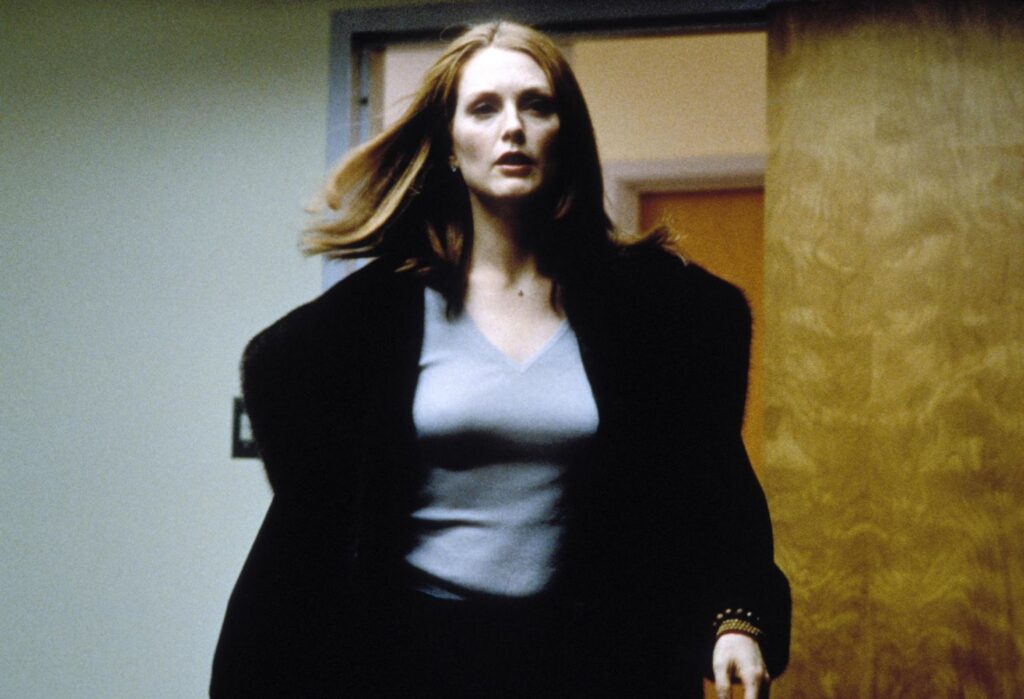 Awards
3 Nominations for Oscar: Best Supporting Actor (Tom Cruise), Song, Screenplay.
Buy or Rent Magnolia
Magnolia Official Trailer
Cast & Crew
Magnolia (1999)
Movie title: Magnolia
Movie description: In a single day in Los Angeles, a number of interconnected lives are changed forever. A lonely police officer (John C. Reilly) falls in love with a disturbed cocaine addict (Melora Walters). Her father (Philip Baker Hall), the host of the game show "What Do Kids Know?" has terminal cancer and tries to make amends for his past mistakes. A former champion of the show (William H. Macy) struggles to find love while the current champion (Jeremy Blackman) suffocates under the pressures of being a boy genius. An elderly man (Jason Robards) lies on his deathbed, tended by nurse Phil Parma (Philip Seymour Hoffman), while his trophy wife (Julianne Moore) wrestles with grief and guilt, and his estranged son (Tom Cruise), an infomercial host, teaches workshops on how to trick women into having sex. Throughout all of this, past deeds are lamented and strange forces loom in the air. (Filmaffinity)
Date published: May 15, 2022
Country: United States
Duration: 188 mins
Author: Martin Cid
Director(s): Paul Thomas Anderson
Actor(s): Tom Cruise, John C. Reilly, Philip Baker Hall, William H. Macy, Jeremy Blackman, Melora Walters, Jason Robards, Julianne Moore, Philip Seymour Hoffman, Melinda Dillon, April Grace, Henry Gibson, Michael Bowen
Genre: Drama