Peter Stathas Dance presents There's More To Do, their first live presentations in New York City since February 2020. The performances will be held at the Mark Morris Dance Center, Duffy Studios, 3 Lafayette Avenue, Brooklyn, NY 11217, on January 27 and 28, 2023 at 7:30pm. The program will feature five works from Peter Stathas Dance's repertoire. Tickets are $25 general admission, $20 Seniors, $15 Student/Artist, and are available at eventbrite.com/e/theres-more-to-do-tickets-488828789067.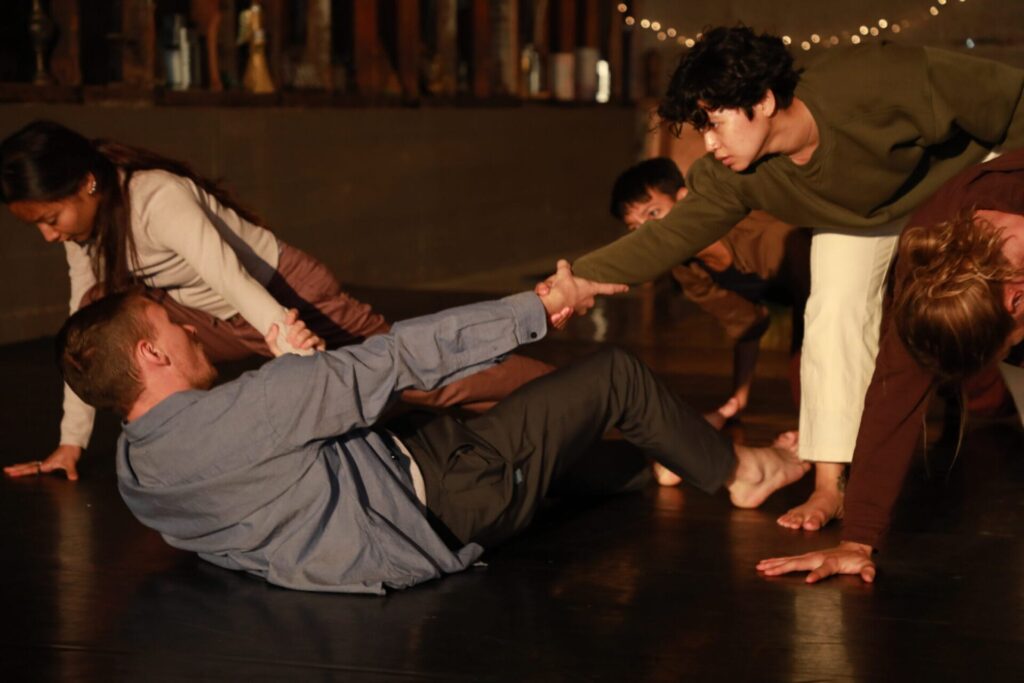 There's More To Do is a collection of works about people – the situations they have created for themselves, the decisions they are confronted with, and where the expression of their humanity takes them. The company will present four new works: a series of solos, duets, and a full company piece created throughout 2022. These were brought to full fruition at The Barn Project 2 residency in Elkhorn, WI this past September.
"I encourage my artists to find freedom in the ability to access their characters through their own personality and experiences," said Peter Stathas. "There's always more to do, say, and experience both in life and in dance, and this is only the beginning of our collective journey into these worlds. Join us for an evening of love and humanity – it is a privilege to be back sharing space with you all!"
Program:
There's More To Do (2022)
Music: Sol Gabetta Vask's Concerto #2 for cello and strings
A solo created with Lauren Twomley throughout 2022, this piece is an exploration of the essence of what makes us who we are. It is about looking deep within ourselves to process our past and present, a cathartic release of the scores our bodies keep, and the first step into navigating the future.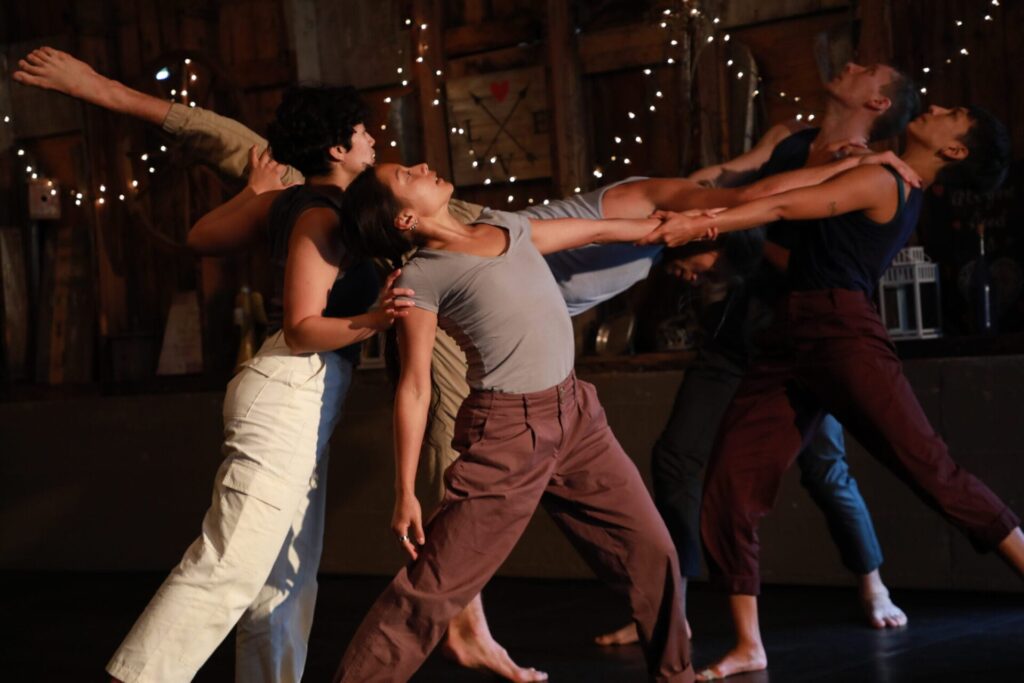 Conundrum (2018) – excerpt
Music: Brahms String Quartet #1 in C minor Opus 51
Conundrum has been and continues to be everything the name suggests. The spacial limitations and restrictions that this dance places upon the dancer represents the perceptions we have of one another that are mostly unfounded. This piece in its entirety is for four women. As the piece progresses, the dancers accumulate one by one, going on a journey of breaking barriers, supporting one another, and discovering the joy that comes from embodying their power. In this solo, Selina Shida Hack faces the decision whether to remain within the confines she created for herself or created for her, or to take the risk to break away.
Kathedra (2022)
Music: Caroline Polachek's "The Gate"
A duet dedicated to the friendship and dancing partnership between Lauren Twomley and Ty
Graynor, this piece explores and engages the physical and emotional places their relationship brings them. They navigate the internal and external forces that unify and separate them, melding their spirits into one while keeping the integrity of their individual selves.
Sonic (2022)
Music: Ivan Trevino's "Catching Shadows"
A duet for Paulina Meneses and Mariah Gravelin with a driving force in speed and tempo
exchanged between the two; one that conjures up a new and fast friendship.
In The Garden (2022)
Music: Voice by Paulina Meneses, written by Paulina Meneses, soundscape by Taavi Haapala.
Additional music by Hania Rani Hawaii Oslo, Max Richter "In The Garden"
In The Garden is the exploration of our life cycle. It dwells on the questions we ask ourselves as
we move through this continuum. It immerses us in the natural, authentic aspects of our
creative growth. Starting with Paulina Meneses as a soloist, we are taken on her journey that loosely represents a lifespan. It then transforms into a group work and explores the complexity of interpersonal relationships and the effects it has in the larger scheme of things. In this instance, we see the effect it has had on the soloist.
About Peter Stathas Dance
Peter Stathas began his dance training at the University of Wisconsin-Stevens Point and transferred to SUNY Purchase to finish his dance training. He moved to New York City to study with such dance luminaries as Gerri Houlihan, Lar Lubovitch, Mel Wong, Mark Morris and his mentor Maggie Black. He performed with the Jose Limon Dance Company and worked extensively with Bessie winning choreographer and filmmaker Marta Renzi. For the past 30 years, Peter has worked as a Physical Therapist forming his own successful private practice, Freedom Physical Therapy Services, which has four locations in the greater Milwaukee area. After a long hiatus, his love for dance inspired his decision to return to choreography. Peter returned to the stage in 2016 presenting his first work in over 30 years. In 2018 he premiered work in NYC as a part of DEVICES choreographic mentoring program. In 2019, Peter Stathas Dance was selected by Danspace Community ACCESS program to perform his curated program "Leaving and Coming Back." In February 2020, Peter Stathas Dance premiered a new work "In The Garden" as a part of the Gibney POP Series.
In 2020-2021, Peter and company worked remotely to create "What We Have To Give," a dance film consisting of six solos and one duet, which premiered in June of 2021. Later that year Peter founded "The Barn Project" residency in the rural town of Elkhorn, WI. It began as a way of creating a safe space to bring the company back together for the first time since February, 2020, and has transformed into a dance incubator for artists of the midwest to present work and connect artists from different communities. During the Barn Project 2022 residency we premiered four new works and engaged with invited choreographers Sara Hook, David Parker, Jeff Kazin, Dawn Springer and Amy Wilkinson. We also invited students from the University of Wisconsin, Milwaukee and Loyola University to take company class, observe our rehearsal process, and gain new perspectives by having a round table discussion with the company. The company traveled to Austin Texas in June of 2022 where we held our first ever summer workshop with a residency at First Street Studio.
We are beginning our 2023 season with our first live New York City performance since the grip of the 2020 pandemic. Having worked on these dances for the better part of 2022, we are excited to present them in their entirety here in our home, NYC.
Peter Stathas Dance was created to give dancers a forum to unleash their creativity and individuality through a collaborative process with the choreographer to generate innovative movement. As part of valuing the whole artist, Peter Stathas Dance is committed to ensuring dancers are able to practice and perform their craft while earning a living wage. www.peterstathasdance.com