Today, Pace announces its exclusive and worldwide representation of the John Wesley estate. Wesley, who died in 2022 at age 93, is known for his flattened, idiosyncratic figurations that defy easy classification within any single artistic movement. The gallery's debut presentation of the artist's work will take place at Frieze Los Angeles 2023, where his painting Afternoon Sail at the Edge of the World (1978) will be featured on the gallery's booth.
Associated with Pop Art and later Minimalism, Wesley was a key figure in American art from the 1960s until his death last year. Drawing inspiration from images in comics and other mass media, the painter cultivated a distinctive, graphic style characterized by bold, weighted lines, unmodulated color, and an absurdist-edge. Eroticism, humor, and an ineffable disquietude cut across Wesley's works in a manner that critics have likened to Surrealism, though the artist asserted that he had no conscious intentions to emulate the Surrealists.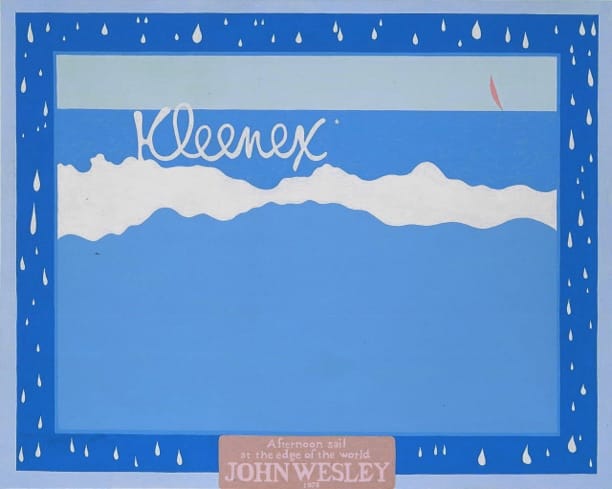 Born in Los Angeles in 1928, Wesley was part of a generation of artists emerging from the Great Depression and World War II. When he was five years old, the artist found his father—having died from a stroke—on the bathroom floor of the family home. The traumatizing event had a major impact on the artist, who worked blue-collar jobs by day and studied art by night in his twenties. He took a job in the illustration department of the Northrop Aircraft Corporation in 1953, and in 1960 he relocated to New York, working first as a postal clerk. He would live and work in New York for the rest of his life and career.
Among the early milestones of Wesley's career was his inclusion in the Los Angeles County Museum of Art's 1959 Annual exhibition, the 1968–69 Painting Annual at the Whitney Museum of American Art in New York, and Documenta 5 in Kassel in 1972. Major exhibitions dedicated to his work in more recent years include a retrospective at the PS1 Contemporary Art Center, now MoMA PS1, in New York in 2000–2001 and a 2009 retrospective at the Fondazione Prada, organized by curator Germano Celant during the Venice Biennale that year.
Pace will work in association with Fredericks & Freiser, Wesley's gallery of 27 years.