CHICAGO — The City of Chicago and the Department of Cultural Affairs and Special Events (DCASE) welcome new and returning visual art exhibitions, music performances, film programming, and more this spring throughout the Chicago Cultural Center (78 E Washington St). Fondly referred to as "The People's Palace," the Center attracts locals and visitors year-round with its breathtaking architecture, tours, and free arts programming. Visit ChicagoCulturalCenter.org and follow on Twitter, Facebook, and Instagram for the latest events and updates.
The popular "Under the Dome" concert series returns, featuring dynamic performances by multi-instrumentalist NNAMDÏ and Midwest Americana artist Jodi under the stunning Preston Bradley Hall Tiffany dome. The free show takes place on Thursday, April 27 at 6:30pm (doors open at 5:30pm). Headliner NNAMDÏ is fresh off the release of his latest album Please Have a Seat, which serves as a request to sit down, be present, and take in a moment. RSVPs are recommended.
The latest exhibition "Surviving the Long Wars: Reckon and Reimagine" recently opened in the fourth floor Exhibit Hall and is one of five visual art exhibitions on display at the Chicago Cultural Center this spring. "Reckon and Reimagine" explores the multiple, overlapping histories that shape our understanding of warfare, as well as alternative visions of peace, healing, and justice generated by diverse and entangled communities impacted by war. Access New exhibition photos >>
Critically acclaimed exhibition, "Nelly Agassi: No Limestone, No Marble" extends through May 14 in the Chicago Cultural Center's Chicago Rooms. Celebrate the close of the exhibition, "Giving Back: The Soul of Philanthropy Reframed and Exhibited," presented by Chicago African Americans in Philanthropy, with live music from the Chicago Sinfonietta and featured Legends and Legacies philanthropists, April 15 from 12-3pm in Randolph Square.
Programming details and listing information enclosed.
New Music Programming:
Thursday, April 27, 6:30 – 8:30pm (doors open at 5:30pm)
Preston Bradley Hall, 2nd Floor South
Free; RSVPs recommended but not required. RSVP here.
The "Under the Dome" concert series presents musical performances under Preston Bradley Hall's Louis Comfort Tiffany art glass dome – the largest Tiffany glass dome in the world. This April, the concert series returns with two acclaimed Chicago artists: headliner NNAMDÏ and Jodi.
Chicago multi-instrumentalist and songwriter NNAMDÏ set a blistering pace in 2020 with his critically acclaimed genre-fusing LP BRAT, a pummeling punk follow-up in the EP Black Plight, and Krazy Karl, a frenetic jazz full-length tribute to Looney Tunes composer Carl Stalling. He describes his latest album, Please Have A Seat, via Secretly Canadian / Sooper Records, as his most immediate and accessible effort yet.
Jodi is the songwriting project of Chicago musician Nico Jodi Levine. Debut full-length Blue Heron captures Levine's continued search for meaning; a search where a couple of chance encounters with a bird—a great blue heron—guided them to surrender to the immensity of the world and embrace being small.
Visual Art Exhibitions:
Just Opened: "Surviving the Long Wars: Reckon and Reimagine"
Part of the second Veteran Art Triennial and Summit
Open through June 4, 2023
Exhibit Hall, 4th Floor North
Featuring powerful work of Indigenous artists responding to the "American Indian Wars" alongside artists from the Greater Middle East and its diasporas reacting to the "Global War on Terror," the exhibition explores how these works complicate and relate to the creative practices of Black, Indigenous, and People of Color veterans whose experiences profoundly challenge the dominant histories of these long wars.
Curated and organized by Aaron Hughes, Ronak K. Kapadia, Therese Quinn, Joseph Lefthand (Cheyenne-Arapaho, Taos, and Zuni tribes), Amber Zora, and Meranda Roberts with NEH Veteran Fellows Gina Herrera (Tesuque Pueblo), Monty Little (Diné), Gerald Sheffield, Anthony Torres, Eric Perez, and Natasha Erskine.
Extended: "Nelly Agassi: No Limestone, No Marble"
Extended through May 14, 2023
Chicago Rooms, 2nd Floor North
"Nelly Agassi: No Limestone, No Marble" is a site-specific installation, curated by Ionit Behar and designed by Andrew Schachman. Israeli-born Chicago-based artist Agassi calls this project a "biography of the site" in which she develops a personal relationship with the past, present, and future history of a place in connection to her own, giving guests the opportunity to reflect on spaces and their history over time. The exhibition is funded in part by Artis.
Ongoing: "Giving Back: The Soul of Philanthropy Reframed and Exhibited"
Presented by the Chicago African Americans in Philanthropy (CAAIP)
Open through April 30, 2023
Michigan Avenue Galleries, 1st Floor East
The Chicago African Americans in Philanthropy (CAAIP) hosts a touring exhibition that explores the African American philanthropy experience and giving traditions grounded in faith, mutuality, responsibility, and social justice. The exhibition illustrates Black philanthropy through innovative and interactive presentations, including luminous photographic prints on metal, iPad kiosks with digital apps featuring music, poetry, photography, narratives, and more.
Just Opened: "Reimagine Your Public Library"
Presented by the Chicago Architecture Biennial (CAB)
Open through June 2023
CAB Studio, 1st Floor North
As the Chicago Public Library (CPL), celebrates its 150th anniversary, this exhibition, "Reimagine Your Public Library", by the Chicago-based non-profit Human Scale encourages a collaborative design process that reflects on the assets, needs, culture, and identity of communities and neighborhoods that can inform the design of a library.
Upcoming: "First Look: Artworks by the Inaugural Cohort of the CPS RE:ALIZE Early College Arts Program"
April 24 – May 19, 2023
Landmark Chicago Gallery, 1st Floor West
RE:ALIZE is where Chicago Public Schools student artists engage and experiment with a wide range of materials and concepts under the mentorship of professional artists in residence. cpsarts.org.
Film Programming:
Filmmaking Workshop with Miguel Silveira + Double Screening
"One Day to Make a Movie: Indie Filmmaking Without a Budget"
Double screening of American Thief/The Last Election and Other Love Stories
April 8, 10am-5pm
Claudia Cassidy Theater, 2nd Floor North
One Earth Film Festival: Earth Day Film Screening of "Biocentrics"
April 22, 1pm-5pm
Claudia Cassidy Theater, 2nd Floor North
Through the eyes and voice of biologist Janine Benyus, the non-fiction feature "Biocentrics" takes the viewer to different corners of the planet to reveal the birth and principles that guide biomimicry, a transdisciplinary methodology of innovation inspired by nature.
ADIPA Arts Festival and Film Screening of Danny Pudi's "Running"
May 5, 3pm-9pm
Claudia Cassidy Theater, 2nd Floor North
The inaugural APIDA Arts Festival celebrates the creativity of Asian, Pacific Island and Desi Americans in Chicago. Hosted in association with DCASE, Goodman Theatre, Museum of Contemporary Art Chicago (MCA) and Lookingglass Theatre. Details at APIDAArts.org.
Friday, May 5, Chicago Cultural Center
3 p.m. – 6 p.m.: Live painting demonstration with Won Kim
5 p.m. – 8:30 p.m.: Artist Katie Chung in a fashion installation
5:15 p.m.: Live classical music with Béke Trio
5:30 p.m.: Live dance with Shalaka Kulkarni and Rika Lin
6 p.m.: Opening ceremony with Mia Park
6:15 p.m.: Stand-up comedy with Eunji Kim
6:45 p.m.: Film screening of "Running," written by and starring Danny Pudi ("Community," "Mythic Quest") in the Claudia Cassidy Theater
In "Running", Danny sets out to uncover the story of his estranged father. Piecing together mementos, stories from his dad's old friends, and hard conversations with his mother, Pudi starts on a mission to solve the puzzle of his father and finds himself instead on a complex, funny, and vulnerable journey of self-discovery and acceptance.
Dance Programming:
Dance Residency Open Studio Series
Dance Studio, 1st Floor North
Every second Tuesday of the month; plus additional dates through June 2023
Each month the public is invited into the Dance Studio to get a sneak peek at works-in-progress showings, artist talks, and more hosted by the current Chicago Cultural Center resident artists. This program is supported in part by a grant from the Walder Foundation.
Robyn Mineko Williams and collaborators present material from her new interdisciplinary work-in-progress rooted in the Japanese American experience surrounding the incarcerations of WWII and the intergenerational ripples of trauma, love, and resilience that followed. A Q&A session with Robyn and artists will follow the showing.
Additional upcoming Open Studio series: Saturday, May 6, 3-6pm (Christopher "Mad Dog" Thomas); Tuesday, May 9, 6pm (Tango 21 Dance Theater); Saturday, May 27, 3-4pm (Silvita Diaz Brown). Full schedule at ChicagoCulturalCenter.org
Additional Programming: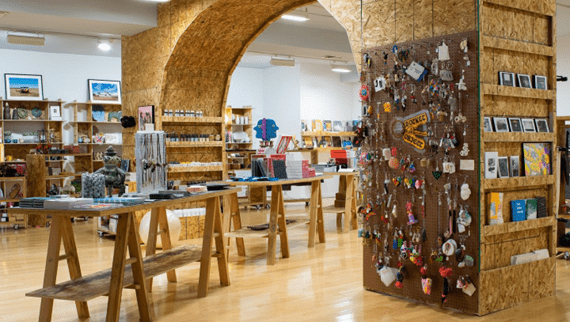 Buddy Store
Located on the 1st floor, the Buddy Store supports more than 200 local artists and small manufacturers selling Chicago-made art, objects, and more. This collaboration between Public Media Institute and DCASE furthers both institutions' goals of providing visibility and opportunities to artists across the Chicagoland area. Details at Hi-Buddy.org.
Upcoming: "Art 4 Sale: Value Prints" Exhibition
The Buddy store's series of curated exhibitions dedicated to specific themes, artists, products, and organizations rotating periodically throughout the year.
April 15 – June 4
Opening: April 15, 3 – 7pm
"Meet an Artist"

The Learning Lab, located on the 1st floor of the Chicago Cultural Center, is an interactive studio and home to the "Meet an Artist" series, which gives visitors the opportunity to meet Chicago artists face-to-face and participate in art making experiences led by the current artist in residence. Offered the 2nd and 4th Friday and Saturday of each month, from 12-2pm. View the schedule on the website.
From March through May 2023, A Long Walk Home's artists Scheherazade Tillet, Leah Gipson, and Robert Narciso invite visitors to participate in the creation of "The Black Girlhood Altar" to honor and create awareness for missing and murdered Black girls and young women. The artists seek to transform public spaces from sites of trauma to places of collective remembrance and power.
Tours
Building tours reveal the storied history of the landmark Chicago Cultural Center and are offered year-round on Thursdays and Fridays at 1:15pm. Tours are free and led by volunteer docents and/or staff. Limited to the first 25 people who sign up at the Randolph Street desk upon arrival.
Chicago Cultural Center
Completed in 1897 as Chicago's first central library, the building was established as the Chicago Cultural Center, the nation's first and most comprehensive free municipal cultural venue, in 1991. One of the most visited attractions in Chicago, the stunning landmark building is home to two magnificent stained-glass domes, as well as free art exhibitions, performances, tours, lectures, family activities, music, and more – presented by the City of Chicago Department of Cultural Affairs and Special Events (DCASE) and many others. Learn about the latest events and news at ChicagoCulturalCenter.org and by following the Chicago Cultural Center on Twitter, Facebook, and Instagram.
Chicago Department of Cultural Affairs and Special Events
The City of Chicago Department of Cultural Affairs and Special Events (DCASE) supports artists and cultural organizations, invests in the creative economy, and expands access and participation in the arts throughout Chicago's 77 neighborhoods. As a collaborative cultural presenter, arts funder, and advocate for creative workers, our programs and events serve Chicagoans and visitors of all ages and backgrounds, downtown and in diverse communities across our city—to strengthen and celebrate Chicago. DCASE produces some of the city's most iconic festivals, markets, events, and exhibitions at the Chicago Cultural Center, Millennium Park, and in communities across the city—serving a local and global audience of 25 million people. The Department offers cultural grants and resources, manages public art, supports TV and film production and other creative industries, and permits special events throughout Chicago. For details, visit Chicago.gov/DCASE and stay connected via our newsletters and social media.