NEW YORK, 28 March 2023 — Exactly one month ago, Sotheby's announced The World of Joanne Woodward and Paul Newman, a series of sales consisting of more than 300 individual items that the legendary actors' assembled and enjoyed throughout their 50-year marriage, to be offered across dedicated live and online auctions this June. Today, another layer of the compelling lives of Hollywood's 'Golden Couple' is unveiled as Sotheby's officially announces that two Rolex Daytona watches from the storied collection of movie star, Paul Newman, will take center stage at the Important Watches auction in New York on 9 June.
While a Rolex 'Paul Newman Daytona' is widely recognized among the most coveted vintage Rolex models, rarer still are Daytonas worn and owned by the Hollywood legend himself – with only two other examples previously sold at auction. The two present examples to be offered this June stand out even further, imbued with sentimental and historical value imparting from pinnacle moments in Newman's celebrated racing career: the reference 16520 (est. $500,000 – 1 million), was presented to Paul after his team won the GTS-1 class at the 1995 24 Hours of Daytona Race at the age of 70, becoming the oldest driver to ever do so, and the reference 116519 (est. $500,000 – 1 million), the last Daytona ever gifted to Paul by his wife, Joanne Woodward, bearing the tender inscription "Drive Very Slowly Joanne" (pictured below).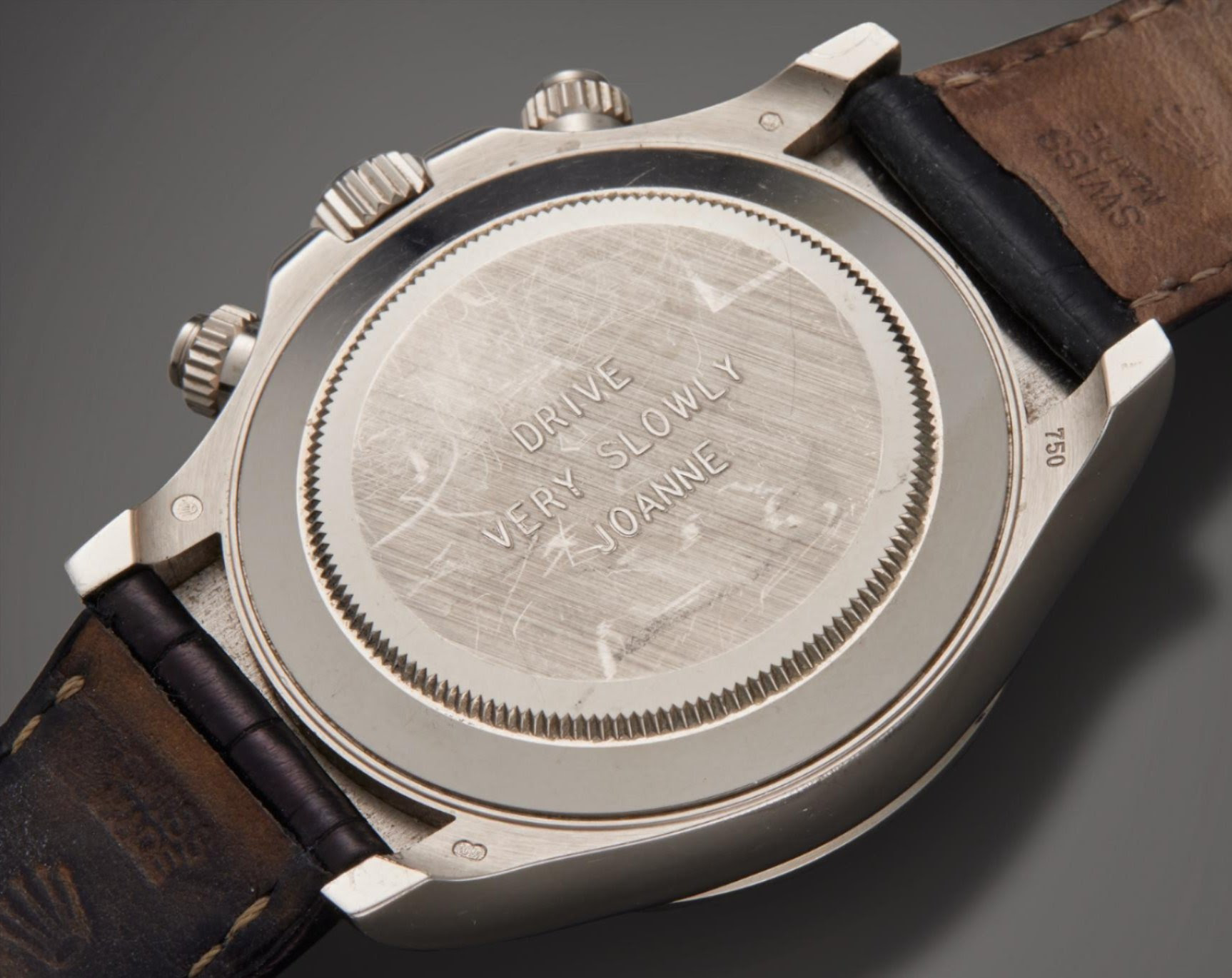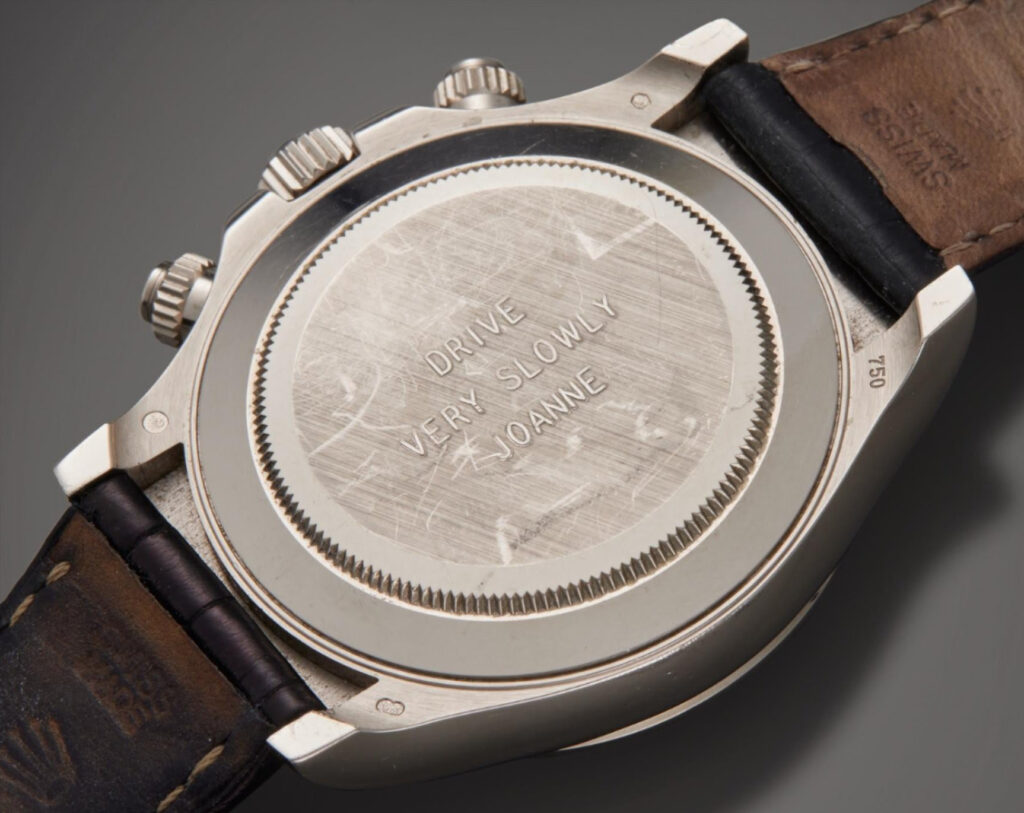 Officially unveiled and on view in Hong Kong (1 – 7 April) to coincide with the 50th anniversary celebrations of Sotheby's presence in Asia, the two watches will then travel on a tour with exhibitions scheduled in Los Angeles and Geneva, amongst other locations. Following the traveling exhibitions, the watches will anchor Sotheby's Important Watches auction in New York on 9 June.
The Rolex Daytona, officially launched in 1963, has close ties to the world of motorsports. While its popularity did not immediately take off, it quickly proved to be a favorite of the racing community, and of course one Paul Newman. Paul was known to have a particular affinity with the Daytona – acquiring his first Daytona during the filming of 'Winning' (1969), which ignited a passion for auto racing that would last the rest of his life. The watch proved to be his faithful companion and good luck charm during his races. Using it as a precision instrument to time laps around the track, the model unofficially became a part of his racing uniform. Today, the history of the Daytona watch is inextricable from the Hollywood star, also known as the greatest unofficial ambassador Rolex ever had, whose endorsement was essential to the model's universal success.
Commenting on the appearance of these two watches, Leigh Safar, Head of Sale, Important Watches & Specialist, Americas, remarked: "Paul Newman is a name in the world of horology that has withstood the test of time. Newman cemented his legacy with watch collectors through his influence on Rolex's most sought after model, the Daytona. As Rolex celebrates 60 years of the Daytona this year, we are proud to share in that milestone and present two models worn and owned by the Hollywood legend, which narrates the everlasting love he shared with his wife, Joanne, and his deep passion for racing. We are grateful to the Woodward Newman family for choosing Sotheby's to present their parent's collection to the world, with these watches standing as one of the most coveted and highly prized in the world."
Reference 16520 'Zenith' Daytona
A stainless steel automatic chronograph wristwatch with bracelet, circa 1993
Estimate $500,000 – 1 million
In 1995, Paul Newman – Hollywood legend and veteran race car driver – claimed victory in the GTS-1 class at the 24 Hours of Daytona, an endurance race held annually at the Daytona International Speedway in Daytona Beach, Florida. The impressive victory was a feat for Newman, who, at 70 years old, became the oldest driver to ever win the race – an accomplishment still held today in The Guinness Book of World Records. In a video interview on the tarmac, Paul remarked: 'I feel tremendous, it's a real kick in the rear, as my wife would say… I don't think there is anything better than this.'
Upon winning the race, Newman was named 'Rolex Motorsports Man of the Year' and was presented a reference 16520 'Zenith' Daytona, bearing the inscription 'Rolex at Daytona 24 Paul Newman Rolex Motorsports Man of the Year 1995.' A historic accomplishment for any driver, the 'Rolex 24' Winner's Award represents one of the proudest moments of Newman's motorsport career; physical evidence that the great actor could not only portray on-screen champions but embody one in real life.
Known for his philanthropic work, Paul later chose to auction the one-of-a-kind watch during Antiquorum's 'Famous Faces' sale in 1999. The timepiece was the star highlight of the night, achieving $39,000 to benefit Newman's charity, The Hole in the Wall Gang, an organization providing medically supervised summer camps and programs free of charge to children with serious illnesses.
Despite the record sale, Newman was seen wearing the watch again years later, so it is thought that one of his loved ones had purchased the watch back for Newman. There can be no doubt how significant and nostalgic the watch and memories were to him and his motorsport career, as he continued to wear the watch for years to come.
Rolex Reference 116519 Daytona
A white gold automatic chronograph wristwatch, Circa 2006
Estimate $500,000 – 1 million
Featuring a black dial, this white gold automatic chronograph wristwatch from circa 2006 was the only precious metal Daytona ever owned by Paul Newman and one of only three known Daytona watches gifted to Paul from Joanne.
The watch is further distinguished by an inscription on the caseback which reads; 'Drive Very Slowly Joanne.' For Joanne Woodward, this phrase was meant to hug Newman's wrist, and trigger a reminder to keep his hands at 10 & 2 while navigating life in the fast lane. Woodward is known for her loving inscriptions and her fear of Newman's need for speed every time he would step onto the racetrack. This auction marks the very first time the watch will be offered on the market and is the last Daytona Joanne ever presented to Paul.
"There is a bit of Hollywood magic that stirs in our minds when we picture a movie star-turned race car driver, speeding around a track with a love letter hidden from plain sight tucked behind his wristwatch."

Leigh Safar, Head of Sale, Important Watches & Specialist, Americas
From watching his Newman-Haas team race at the Indy 500 to his iconic Barbara Walters interview in 2007, Paul Newman's reference 116519 embraced his wrist during the most important moments of his final years. Most notably perhaps, Paul wore the gift from Joanne as he took his famous final laps at Lime Rock Park on August 13, 2008. The track was completely closed to the public, granting Paul Newman and Joanne Woodward's loved ones complete privacy, as they got to observe the Hollywood-star turned racing mogul zoom past them in his 700 horsepower GT1 Corvette, completely at ease. The icon passed away just over one month later at the age of 83.