Inside is a psychological thriller directed by Vasilis Kastoupis and starring Willem Dafoe.
Willem Dafoe gets down to business and tells himself what Tom Hanks said to himself years ago: I'll do this one myself. An interpretative tour de force, indeed… you have to take it ever so calmly and with an even greater degree of reflective spirit.
Plot
An art thief gets locked in a house in the middle of a crime. A hellish heat, with the water turned off and only the images on the TV for company.
Plot
An art thief gets locked in a house in the middle of a crime. A hellish heat, with the water turned off and only the images on the TV for company.
Film Review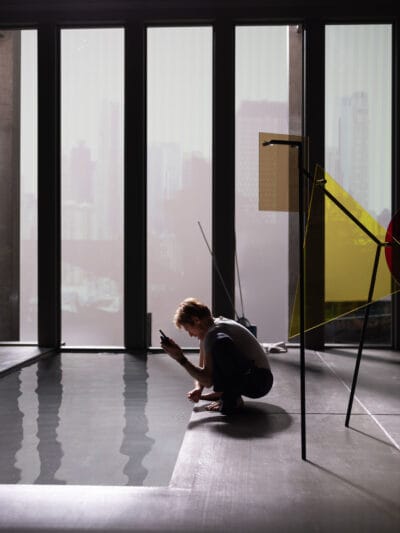 A film that, due to its plot, aims to be Kafkaesque but ends up being… boring (although some critics have said that "it is never boring" – they'll know best…).
A film whose aim is to drown the viewer in its own center and, around it, establish a reflection on creation and art. A very careful film in terms of elaboration, shots and photography (like Shipwrecked, lest we forget that one) and with a powerful sense of aesthetics, a powerful reflection on minimalism, aesthetics and photography.
We have to mention it and there's no avoiding it: Dafoe is fantastic in a film of the kind he loves so much, the kind where actors prove they are great. He demonstrates it in a movie created for that purpose.
The funniest thing: the Macarena.
Meticulously planned, almost mathematical. Many ideas, many concepts of the kind that are only for those " initiated" into the world of art.
Little by little, it builds on itself, turning into a conceptual thriller, turning into something ever more interesting (if you get past the first half hour, that is).
A film that can either win you over little by little, or lose the game right from the start.
A film with a clear merit: it is solidly based more on the concepts than on the actual story itself.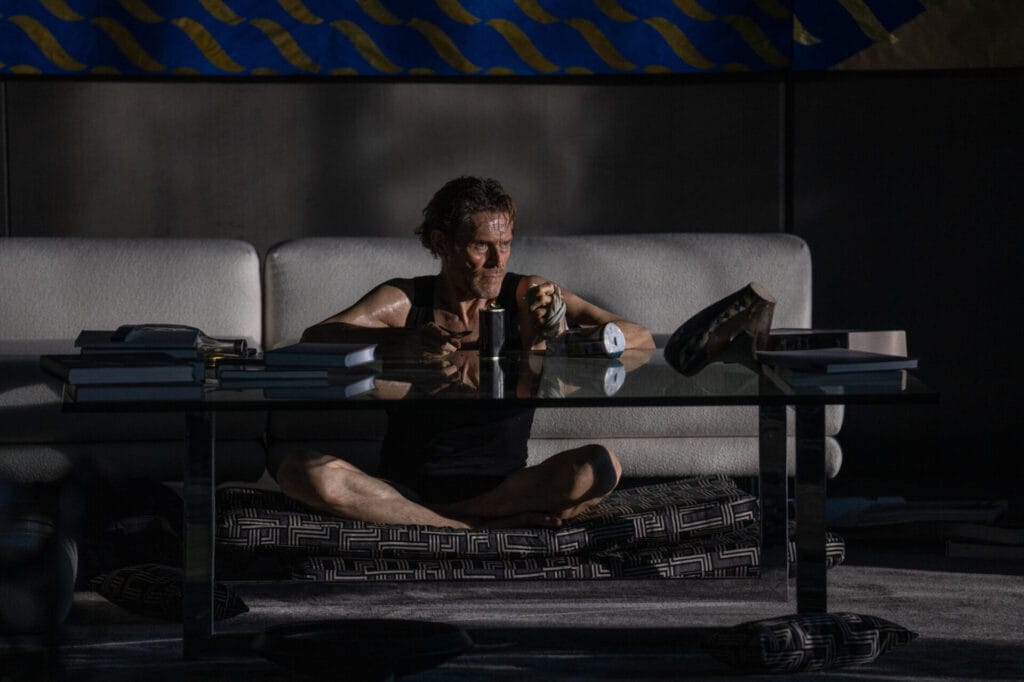 Our Opinion
If you are Rambo fans, run away and escape far, far away, where the horizon disappears beyond space and time. If you are in the mood for a slow and leisurely reflection on a man who devours himself in the aesthetics of the forms…
The Star: Willem Dafoe
Willem Dafoe is an Academy Award-nominated American actor and producer who has achieved considerable success in both independent and mainstream films. Born Willem Dafoe in Appleton, Wisconsin in 1955, he began his professional acting career at the age of 17 when he joined the experimental Theater X in Milwaukee. He quickly gained recognition for his stage work and made his film debut in 1981 with The Loveless, followed by a starring role in Streets of Fire (1984). His breakout performance came two years later with Platoon (1986), for which he earned an Academy Award nomination for Best Supporting Actor.
Release Date
March 17, 2023
Where to Watch Inside
In Theaters
The Cast
Josia Krug / Jack
Eliza Stuyck / Jasmine
Inside
Movie title: Inside
Movie description: Nemo an art thief, finds himself trapped in a luxury, high-tech penthouse in New York's Times Square after his heist goes downhill.
Date published: March 10, 2023
Country: United States
Duration: 105 mins
Director(s): Vasilis Katsoupis
Writer(s): Ben Hopkins, Vasilis Katsoupis
Cinematography: Steve Annis
Music: Frederik Van de Moortel
Actor(s): Willem Dafoe, Gene Bervoets, Eliza Stuyck, Josia Krug
Genre: Thriller
Companies: Co-production United Kingdom-Germany-Belgium-Switzerland-Greece, A Private View, Bord Cadre Films, Heretic, Schiwago Film, Sovereign Films
Our Opinion
If you are Rambo fans, run away and escape far, far away, where the horizon disappears beyond space and time. If you are in the mood for a slow and leisurely reflection on a man who devours himself in the aesthetics of the forms…