The Middle Eastern Art category returns to Christie's Dubai for the first time since 2019 in response to increasing regional and international demand for works from across the Middle East and North Africa
The sale is led by a work by celebrated Moroccan artist Mohamed Melehi, Wilde, 1963. (Estimate US$100,000-150,000)
Highlights include works from works by leading female artists such as Etel Adnan, Huguette Caland, Hayv Kahraman, Dana Awartani and Nadia Kaabi-Linke, as well as modernist works by renowned artists from the region such as Shaker Hassan Al Said, Dia Azzawi and Shafic Abboud, and celebrated contemporary Emirati artists including Mohamed Ahmed Ibrahim and Mohammed Kazem.
DUBAI – Christie's Middle East is pleased to announce the return of the Modern and Contemporary Middle Eastern Art Online auction taking place from 1 – 16 May. The sale comprises 63 works across mediums including paintings, sculpture and photography, from the period 1963 to 2021. Leading the sale is an exceptional work by Moroccan artist Mohammed Melehi, (illustrated above) Wilde, 1963. (Estimate US$100,000-150,000) coming from the Private Collection of Toni Maraini, Rome. This rare work hails from the artist's time in New York, and was exhibited in Galleria Trastevere in the same year of its making and was also recently exhibited at London's New Waves exhibition at The Mosaic Rooms in 2019.
The sale covers artistic production from across the Middle East and North Africa, including works by artists from the U.A.E, KSA, Lebanon, Syria, Palestine, Iran, Iraq, Egypt, Morocco, Tunisia and Turkey. Exciting contemporary names from the region such as Mohammed Ahmed Ibrahim, Ali Banisadr, Hassan Hajjaj, Reem Al Faisal, Thameur Mejri and Jawhara al Saud, are balanced by strong modern works including Etel Adnan's Khat wa Rasm (Line and Hand Drawing), 1986, (estimate US$50,000-70,000); Dia Azzawi's Gilgamesh Epic no 4, 1966 (estimate US$15,000-20,000) and Shaker Hassan Al Said Kitabat a'la jidar raqam (1) (Writings on the Wall number (1)), 1978 (estimate US$70,000-100,000).
Leading modern female artists include Samia Halaby, Helen Khal, Etel Adnan, Monir Shahroudy Farmanfarmaian, Huguette Caland and Behjat Sadr, alongside contemporary female artists Hayv Kahraman, Tala Madani, Nadia Kaabi-Linke, Dana Awartani and Shirin Neshat who comprise a third of the works on offer in the auction, a strong market barometer of the continued interest in and rising demand for works by these talented artists.
Highlights include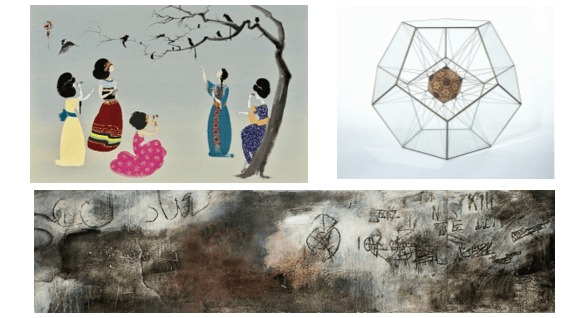 The Maghreb section of the auction includes a highlight from Tunisian-Ukranian artist Nadia Kaabi-Linke, Carthage Presidence, 2009 (illustrated above) (estimate US$50,000-60,000). This monumental work (over four metres long) represents a unique opportunity for collectors to access a work from the sold-out series. Nadia's work can be found in MoMA, Guggenheim and Centre Pompidou collections. The sale includes two commissioned works on paper by the Iraqi female artist Hayv Kahraman, who explores themes of identity, femininity and transformation throughout her work. (Illustrated top left) Kurdish Women, 2009 (estimate US$25,000-35,000), depicts a group of women from Kurdistan bird-watching, and is the largest figurative work on paper by the artist to come to the secondary market. (Illustrated top right), Dana Awartani (Saudi Arabian, B. 1987), Icosahedron Within a Dodecahedron (From the Platonic Solid Duals Series), 2016 (estimate US$25,000-35,000)is a sculpture comprisingwood, copper and glass. Of the talented Saudi Arabian females artists, Dana Awartani has recently showcased her works at prestigious venues such as the Sharjah Biennial and Lyon Biennale of Contemporary Art. In this work the artist fuses Euclidean geometry with Islamic geometry, and craftmanship with contemporary practice.
(IIlustrated below), Etel Adnan's leporello Khat wa Rasm (Line and Hand Drawing), 1986 (estimate US$50,000-70,000) beautifully illustrates the poem 'Stations Beyond Death' by Adnan's friend, the Iraqi poet Shawqi Abdel Amir. Produced in California in the 1980s, the work weaves Abdel Amir's ethereal verses with Adnan's hand drawing and writing in 28 sheets using watercolour, ink and coloured pencils.

Suzy Sikorski, Specialist, Post War and Contemporary Middle Eastern Art comments, 'There is a rising demand for Middle Eastern art at a regional and international level, now met with a growing interest of new collectors to the category that are focusing on GCC, especially Saudi Arabia, met with prestigious art exhibitions and residency programs. International exhibitions such as the Venice Biennale and Lyon Biennale of Contemporary Art have also built more awareness of Middle Eastern art in a non-profit space, while also allowing for a more global perspective on art from the region. Christie's Middle East's auction this season in Dubai reinforces our role to nurture the market here, for the regional and the international stage'.
Marie-Claire Thijsen, Head of Sale, Middle Eastern Modern and Contemporary Art comments, 'Our online sale includes strong representation from the contemporary market which is going from strength to strength. We are seeing a significant increase in demand for work by contemporary names from the region, not only from collectors in the Gulf but notably internationally. We anticipate that there are names to watch included in this sale who will become highly sought after in the immediate future. This is an exciting development for emerging talent across the diaspora and the category as a whole'.