London – The Formidable breaking the French line at the Battle of the Saintes, 1782 by Nicholas Pocock (1740-1821) from drawings by James Hillhouse (1748-1822) was the top selling work at Bonhams Marine Sale in London on Wednesday 26 April 2023. Estimated at £25,000-35,000, the painting sold for £82,200, achieving the third highest ever price for a picture by the artist.
Rhyanon Demery, Bonhams Head of Sale for Marine and Topographical Pictures said: "The Battle of the Saintes, also known as the Battle of Dominica, was the most important naval victory by the British over the French during the American War of Independence.  HMS Formidable was the British flagship under the command of Admiral Sir George Rodney and Pocock memorably captures the moment on 12 April 1782 when she broke through the French line and scattered their ships. This was the first time the manoeuvre had been deployed and the term 'breaking the line' originated here."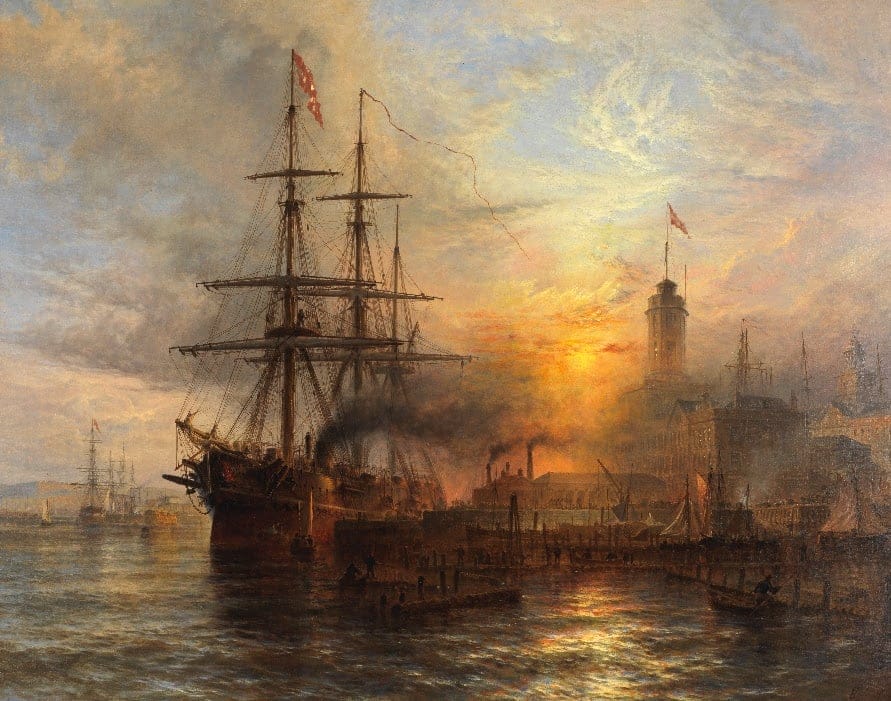 Other highlights of the 109-lot sale included:
The Riverside, Limehouse by Charles Napier Hemy (1841-1917). Sold for £69,600 (estimate: £20,000-30,000).
The Beautiful Forest Queen by Montague Dawson (1890-1973). Sold for £38,100 (estimate: £30,000-50,000).
A Danish Steamer moored alongside a busy dock in Portsmouth by Henry Dawson (c1841-1896). Sold for £25,000 (estimate: £8,000-12,000).
An early 19th century Prisoner-of-War Bone Model of a 90-Gun Ship-of-the-line. Sold for £17,850 (estimate £6,000-12,000).