(New York) – Artist Jacques Jarrige installs a large site-specific sculpture at Cathedral Church of Saint John the Divine on March 2, 2022, for the start of Lent. It will be shrouded during Lent and unveiled for the start of Easter before the evening Mass of April 16, 2022.Suspended 90 feet in the center of the church's nave, the 10-feet tall Christ sculpture in hammered aluminum represents the artist's intimate exploration of form and his faithful dialogue with material and liturgy. Known for his fluid interpretational sculptures, in this new work, Jarrige ties his process to a specific representation of time and space, that of the crucifixion of the body of Christ. On view through May 8th, the artist's site-specific installation will be accompanied by a booklet with an essay by Patrick Malloy, Ph. D Sub Dean, and Canon for Liturgy & the Arts. The sculpture joins many contemporary artworks already included within the Cathedral's collection.
The installation is part of an important year for Jarrige, encompassing an exhibition at the Venice Biennale April 23 – November 27, 2022, the launch of a large aluminum commission: Pfizer Cascade in the newly renovated 630 Flushing Building in Brooklyn, NY (in partnership with COPE NYC), and a showcase of new artworks at Valerie Goodman Gallery April 16 – May 27, 2022. Celebrating his 12th year with the gallery, Valerie Goodman Gallery publishes a mid-career survey of the work of Jarrige, featuring, among others, texts by curator and writer Glenn Adamson and by award-winning French novelist Maylis de Kerangal.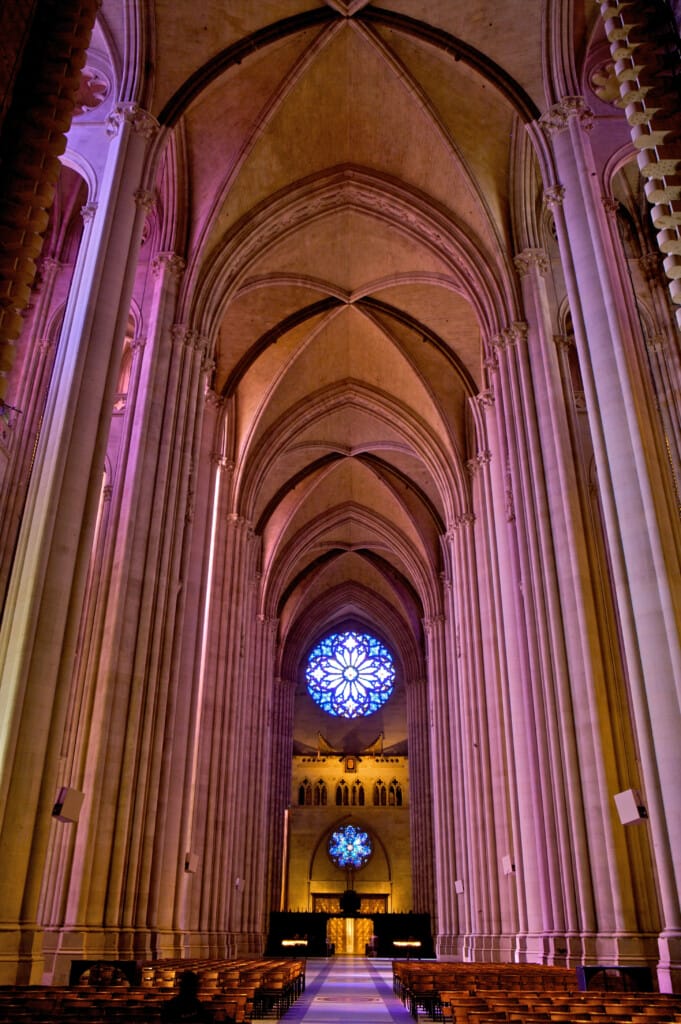 Jacques Jarrige (b. 1962) is an artist who lives and works in Paris, France. His work is inspired by the art of Vlaminck, Derain, Segonzac, Rodin that were in his childhood home, and later the discovery of Henry Moore, Alexander Calder, the furniture design of George Nakashima, Alexandre Noll, and others.

Jarrige rejects a purely decorative approach and instead engages in ongoing experiments with humble, raw materials and forms. His vigorous pieces of furniture reflect the impulsivity of drawings in space, while his wood, aluminum, and brass sculptures reach new monumentality while retaining their distinctive vital purpose.

He studied architecture at the École Nationale Supérieure des Beaux-Arts before abandoning formal education to make functional sculpted design objects. In 1991, Jarrige was invited to join Frederic de Luca's influential Parisian avant-garde gallery En Attendant les Barbares, where his sculptural furniture and design objects attracted a devoted following in Europe. Since 2010 he has been represented by Valerie Goodman Gallery in New York, where he has had four solo exhibitions along with other shows at the Queens Museum curated by Vida Sabbaghi, The Museum of Art and Design (MAD) for his jewelry, COPE NYC in Brooklyn and Taiwan, Rockland Center for the Arts Sculpture Park (RoCA) and the Rockefeller State Park preserve in Westchester.

His work is included in important international private collections.

About Valerie Goodman
Established in 2010 on Manhattan's Upper East Side, Valerie Goodman Gallery introduces contemporary emerging artists and designers to an American audience. The gallery has fostered numerous productive exchanges with architectural designers, art collectors, galleries, and institutions to promote artists' individual voices and concerns. Artists represented include Jacques Jarrige, Tinatin Kialberidze, Anasthasia Millot, Cristina Salusti, Eric Schmitt, Claire de Lavallée and many more.
About the Cathedral
The Cathedral Church of Saint John the Divine is the Cathedral of the Episcopal Diocese of New York. It is chartered as a house of prayer for all people and a unifying center of intellectual light and leadership.
During the COVID-19 pandemic, the Cathedral has responded to changing needs in the local community and across the city and state. People from many faiths and communities worship together in daily services held online and in-person; the soup kitchen serves roughly 50,000 meals annually; social service outreach has an increasingly varied roster of programs to provide resources and aid to the hardest-hit New Yorkers safely; the distinguished Cathedral School prepares young students to be future leaders; Advancing the Community of Tomorrow, the renowned preschool, afterschool and summer program, offers diverse educational and nurturing experiences; the outstanding Textile Conservation Lab preserves world treasures; concerts, exhibitions, performances, and civic gatherings allow conversation, celebration, reflection, and remembrance—such is the joyfully busy life of this beloved and venerated Cathedral.

The Cathedral has a long history of presenting exhibitions, from meditative to challenging, historical to contemporary, including on-going exhibitions such as Where Do We Go From Here? produced by For Freedoms and Magnum Foundation; The James Parks Morton Interfaith Art Collection; Treasures from the Crypt, and many more.
The Cathedral Church of Saint John the Divine
1047 Amsterdam Avenue
at 112th Street
New York, New York 10025