Paris – On 29 November, Christie's presents a carefully curated selection of Design works from the 20th– and 21st-centuries. The nearly 200 lots by prestigious artists and designers epitomise the vast creativity of the decorative arts – from Art Nouveau to contemporary art. Particularly distinctive among the selection are Pierre Chareau and Jean Dunand's works, Diego Giacometti's inventiveness, and François-Xavier Lalanne's poetic imagination. A group of artistic glassware by Émile Gallé and a set of 17 unique engraved mother-of-pearl boxes by Line Vautrin making their first market appearance (estimated from €2,000 each) are further highlights of this selection rounded out by Italian, Scandinavian, and Brazilian design objects.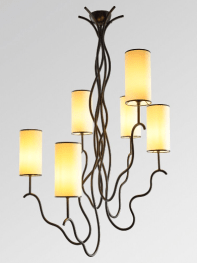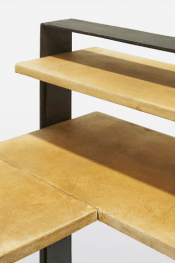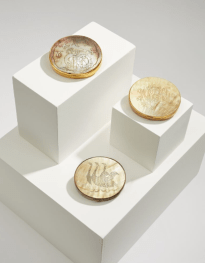 Following the record-breaking sale of Rhinocrétaire I by François-Xavier Lalanne on 20 October Christie's presents another emblematic piece by the artist: Babouin-cheminée (estimate: €1,000,000 – 1,500,000). Embodying the French artist's unique aesthetic and creative genius, this bold creation turns a fireplace into an original, lifelike sculpture. As for the bar Hippopotame II, François-Xavier Lalanne drew his inspiration from ancient Egypt. Concealing a fireplace, this baboon is portrayed in the form of Thoth, a majestically seated god figure. Its posture and intense glare create an imposing, dramatic presence.
Two lots, both from a significant private collection, illustrate Pierre Chareau's ingenious mechanisms. This rare variation of the EB 754 bureau clad in pigskin leather and the MB 960 bookshelf-table are therefore further highlights of this sale (respectively €250,000 – 350,000 and €150,000 – 200,000).
Several exceptional pieces express the timeless elegance of Diego Giacometti. Among them, a patinated bronze bench – a model designed for the Fondation Maeght in Saint-Paul-de-Vence (estimate: €200,000 – 300,000) and a pair of "aux cuirasses" andirons (estimate: €100,000 – 150,000 ) are both particularly rare opportunities on the market.
The sale also features a fine, exceedingly rare Liane chandelier by Jean Royère. Until now, it was known through archive documents only (estimate: €200,000 – 300,000).