New York – On October 25 in New York, Bonhams will offer a treasure trove of literary history in an exciting single-owner auction – John Steinbeck: The Mary Steinbeck Dekker Family Collection. Featuring a vast collection of letters, manuscripts, diaries, presentation copy novels, and personal ephemera of John Steinbeck (1902-1968), the material in the sale comes directly from the family of the author's youngest and most beloved sister, Mary Steinbeck Dekker. With most of Steinbeck's manuscripts and family letters held by institutions including Stanford, the Morgan Library, and UCSJ, this remarkable assemblage provides a rare opportunity for collectors to own written material from one of America's most celebrated authors.
A literary giant, John Steinbeck's prolific oeuvre tackled the social and economic issues of the early 20th century. His experiences growing up in California's Salinas Valley profoundly influenced his storytelling and some of his most celebrated works were set the region including East of Eden, Of Mice and Men, and his masterpiece and Pulitzer Prize-winning novel, The Grapes of Wrath. His work was also informed by the economic and social upheaval of the Great Depression and in 1962, Steinbeck was awarded the Nobel Prize for Literature – "for his realistic and imaginative writings, combining as they do sympathetic humor and keen social perception." Steinbeck's enduring legacy lies in his ability to capture the essence of American life during tumultuous times and his contributions to the literary cannon continue to be celebrated.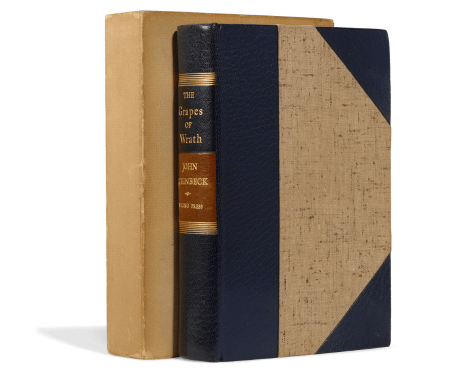 Steinbeck's personal journal from 1949, estimated at $20,000 – 30,000, and number one of only 10 copies of The Grapes of Wrath specially bound for Steinbeck, estimated at $15,000 – 25,000.
Highlights of the sale include:
A vast archive of correspondence from Steinbeck to his younger sister Mary Steinbeck Dekker and other family members, discussing both personal and professional milestones over the decades, estimated at $250,000 – 350,000.

The original typed manuscript of Steinbeck's first novel Cup of Gold with extensive margin notes by an unknown reader giving feedback as well as small corrections throughout made by Steinbeck in pen, estimated at $100,000 – 150,000.

Steinbeck's personal journal for 1949which begins "I don't suppose anyone ever so hated a year as I hated 1948… Wife, children, best friend all gone. But perhaps it toughened me. I hope so."The journal, estimated at $20,000 – 30,000, details his despair at the loss of his best friend, Ed Ricketts, end of his marriage to his second wife Gwen, who took their two small boys, and the long journey to writing again, culminating in his meeting Elaine Scott in May.
First edition, presentation copies inscribed by Steinbeck to his sister Mary of Tortilla Flat, estimated at $15,000 – 25,000, The Pastures of Heaven, estimated at $10,000 – 15,000, and Cup of Gold, estimated at $15,000 – 25,000.

A heretofore unknown Steinbeck journal from February to March 1938, estimated at $10,000 – 15,000, which provides a raw and important look at the writer's journey as he works his way toward his masterpiece, The Grapes of Wrath.
Steinbeck's daybook journal from 1947 containing his contemporary descriptions of his 1947 journey through Russia and Ukraine with photographer Robert Capa, and which was used as the raw material for his 1947 memoir, A Russian Journal. Estimated at $30,000 – 50,000, the journal illuminates the creative process Steinbeck engaged in producing his work.
Every iteration of Burning Bright before publication from the original handwritten draft to the submitted typescript to several versions of galley proofs and, finally, a custom-bound copy of the final printed version, estimated at $50,000 – 70,000, and an original manuscript draft of Steinbeck's introduction to The Log of the Sea of Cortez, estimated at $3,000 – 5,000, which were all gifted by Steinbeck to his nephew-in-law.

"You are funny little boys now and I miss you so. I feel cheated sometimes that I cannot see you growing and be a part of it…" laments Steinbeck in a heartbreaking draft of a letter to his sons dated January 5, 1949. Discovered tucked into one of Steinbeck's journals from the same year, the self-pitying letter was written in the aftermath of the death of his best friend and his divorce from his second wife. It is estimated at $3,000 – 5,000.

An Arthurian wrought-ironsword and calligraphic manuscript given by Steinbeck to his sister Mary, likely sometime between 1956 and 1959, when he was deep into his Acts of King Arthur project, estimated at $2,000 – 3,000. The manuscript, written in Middle English with a calligraphic hand, seeks to right a wrong from childhood: the failure of Steinbeck to fully recognize his sister's bravery and grant her a "knighthood."