Luvly is a Stockholm-headquartered technology company developing ultra-sustainable and community-minded light urban vehicles (LUVs). Luvly LUVs will create affordable access to ethical, safe passenger and cargo transport choices, democratising the benefits of a plug-in car with vehicles that are more practical, affordable, and efficient, as well as safer for pedestrians and other drivers than traditional cars. A unique flatpack transportation solution enables assembly close to the end-user, reducing the carbon emissions and cost of shipping.
Additionally, Luvly's patented, licensable infrastructure platform and tech development kit enables third-party development and production of LUVs, creating a cost-effective and customisable global solution for brand-new vehicular innovations.
The debut model: Luvly O
Luvly's first model, the two-seater Luvly O, will full-launch during H2 2023. Key features include:
Range: 100km
Top speed: 90km/h
Price: ~€10k
Weight: <400kg (excl. batteries)
Approx. dimensions: 270cm x 153cm x 144cm
Powered by two removable batteries
Designed with Koenigsegg hypercar alumnus Joachim Nordwall
The Company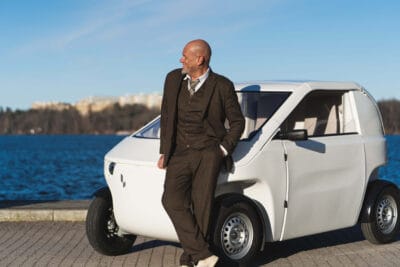 Luvly was founded in 2015 in Stockholm by Håkan Lutz (CEO), Björn Lindblom (Chairman), and David Egertz (CTO). In the mid-2000s, serial entrepreneur Lutz foresaw a demand for sustainable and space-efficient urban travel, but was met with general indifference to the threat of climate change, as well as a lack of existing affordable structural technologies. Following a decade of engineering innovation and procedural development, Lutz, Lindblom, and Egertz launched Luvly in 2015, to a world rapidly waking up to the urgent need to abandon fossil fuels.
Luvly currently has 10+ core staff based at its Stockholm HQ, in addition to its teams of crash test engineers, software developers, safety advisors, etc. The company closed its seed funding round in July 2022.
Light Urban Vehicles
LUVs are vehicles for up to four people or last-mile goods transport, optimised for city and commuter traffic with significant environmental, space, efficiency, and adaptability advantages over cars. Luvly LUVs require far less energy and cost to run and produce than a plug-in car, feature 'slow formula racing tech' for best-in-class safety, and are recyclable.
Luvly vehicles are built via a patented platform that simplifies the construction of advanced three-dimensional composite sandwich structures, enabling unprecedented affordability of production while maintaining the structures' lightness and strength. Parts are interchangeably connectable to one-another and to all standard vehicle parts, allowing for extraordinarily quick and customisable assembly.
Compared with electric cars, energy consumption from LUV production, shipping, and distribution is up to 80% lower. Virtually all Luvly vehicle parts are recyclable and can be made from renewable materials. Luvly vehicles are significantly more energy efficient and cheaper to buy and run than almost all ICE and electric cars.
Like formula racing cars, Luvly vehicles feature energy absorbers positioned around the chassis and a sandwich-composite safety cell protecting the passengers. This 'slow formula racing tech' ensures maximum possible safety. Compact, manoeuvrable, and lightweight, Luvly's LUVs will help to address worsening space and overcrowding issues faced by urban centres globally.
The Licensable Logistics Infrastructure
Licences are already available for B2B access to Luvly's patented technical platform, providing engineers and designers with a revolutionary development kit for new vehicular solutions. Additionally, core elements of Luvly's procedural and manufacturing platform are currently available, with extensive further developments underway.
Through its innovative platform, interchangeable assembly system, and flatpack distribution, Luvly's solution offers companies and civic organisations significantly shorter idea-to-product times than typical transportation design and development. Due to the flatpack distribution and simple assembly, combining advanced structural tech with low-priced and readily available raw materials, mass production of Luvly and Luvly-licensed vehicles in any territory and close to the end-user is exceptionally cost-effective and fast.
Håkan Lutz, CEO and Founder of Luvly, comments: "Luvly was founded on the belief that the negative aspects of cars – environmental harm, cost, danger to pedestrians and other road-users, space inefficiency – can be mitigated by combining modern technological solutions with futuristic design. Our light urban vehicles emphasise the values of positive communal living: consideration, temperance, and taking responsibility not just for yourself, not even just for your children, but also for your neighbour. In many markets, consumers are ready to eschew expensive, polluting, dangerous cars in favour of more fit-for-purpose solutions. With our combination of patented tech innovation and sophisticated licensing and logistics structures, we believe Luvly is poised to become a world-leader in the urban transport of the decades ahead."