Ethan Hawke is an American actor and writer known for the movies, Training Day (2001) and Sinister (2012), among others.
About Ethan Hawke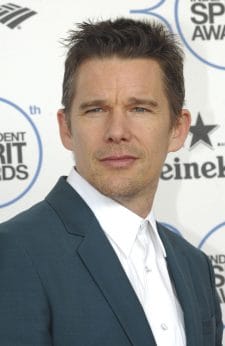 Ethan Green Hawke was born on November 6, 1970 in Austin, Texas; United States.
Ethan Hawke rose to fame in 1985 thanks to the movie Explorers and the film starring Robin Williams, Dead Poets Society. He has a role in Reality Bites, alongside Winona Ryder and he was nominated to an Academy Award as Best Supporting Actor for Training Day (Denzel Washington).
He was also nominated, but this time for Best Screenplay, for the movies Before Sunset and Before Midnight.
He was married with the actress Uma Thruman from 1998 to 2004). They both starred in Gattaca (1997).
We watched… Predestination (2014) and Stockholm, a funny 2018 movie.
Nowadays, you can watch him in the horror movie, The Black Phone (2021).
Ethan Hawke Quotes
The thing that makes a great genre movie is one that's not just entertainment, not just horror or sci-fi or whatever. The ones I love are the genre pictures with some subversive message underlying it all.

Ethan Hawke
If you can understand the inner life, then you can wear the uniform, the tattoos, or whatnot and realize that the things that are different about us become superficial.

Ethan Hawke
Ethan Hawke Movies on MCM
Video: Ethan Hawke BIOGRAPHY