Thor: Love and Thunder is a 2022 Marvel movie directed by Taika Waititi and starring Chris Hemsworth. With Natalie Portman and Christian Bale.
Nothing serious, you will see.
Release Date
Friday, July 8, 2022.
Movie Reviews
Coming soon.
The Cast of Thor: Love and Thunder
Chris Hemsworth
His full name is Christopher Hemsworth, and he was born August 11 1983 in Melbourne (Australia).
Chris Hemsworth began his career in Australia in the series/soap opera Home and Away (2004-2007).
In 2009 he came to the United States where played a part in the science fiction feature film Star Trek (2009).
He had his big breakthrough in the movie industry with Thor (2011), which was followed by a leading part in The Avengers series, and the two sequels to Thor.
Other noteworthy films Chris Hemsworth has starred in are the war movies 12 Strong (2018) and Extraction (2020), as well as the biopic Rush (2013).
His latest roles are in the new Netflix action movie, Spiderhead (2022). and the soon to be released Marvel movie, Thor: Love and Thunder (2022).
Should you be wondering if he is married, he is, and happily so to actress Elsa Pataky since 2010.
Natalie Portman is world renowned for her stellar acting career, which has won her merits such as an Academy Award for her leading role in Black Swan (2010).
About Natalie Portman
Thor: Love and Thunder (2022)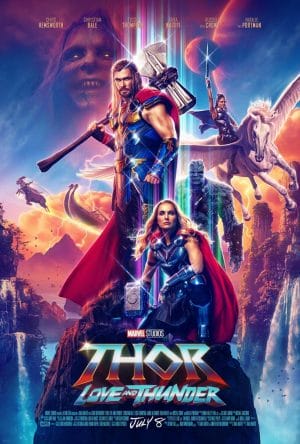 Movie title: Thor: Love and Thunder
Movie description: Thor's retirement is interrupted by a galactic killer known as Gorr the God Butcher, who seeks the extinction of the gods. To combat the threat, Thor enlists the help of King Valkyrie, Korg and ex-girlfriend Jane Foster, who - to Thor's surprise - inexplicably wields his magical hammer, Mjolnir, as the Mighty Thor. Together, they embark upon a harrowing cosmic adventure to uncover the mystery of the God Butcher's vengeance and stop him before it's too late.
Date published: July 5, 2022
Author: Diane T. larsen
Director(s): Taika Waititi
Actor(s): Chris Hemsworth, Natalie Portman, Christian Bale, Tessa Thompson, Chris Pratt, Jaimie Alexander, Matt Damon, Karen Gillan, Dave Bautista
Genre: Superheroes, Action, Adventures
Reseña
Divertida sobre todo, por descontado bien hecha, bien contada y con guion y buenos chistes por doquiera. En su justa medida y salvando las diferencias con Bergman: ¡un pedazo de bockbuster para este veranito!