"Feedback" is a Polish series directed by Leszek Dawid based on the novel by Jakub Żulczyk.
"Feedback" is a dramatic thriller with intense drama and a slow-paced rhythm. Don't expect a Hollywood-style action frenzy in this series; it is more of an intriguing story about a man who, while searching for his son, finds the path to redemption.
On Netflix, whether we like it or not, there are stories for all tastes, and this must be acknowledged, although we may prefer some stories and narrative approaches over others.
What can we find in "Feedback"?
If you enjoy dramas that blend thriller elements and focus more on the internal struggles of the main character rather than the resolution of the mystery, then "Feedback" might appeal to you. It is a straightforward series without flashy Hollywood effects, where we delve into the (supposed) rehabilitation of an alcoholic, with a significant dose of social realism.
Above all, the series has a profound sense of morality and explores the protagonist's feelings of guilt while a thriller unfolds, albeit overshadowed by the imposing reality that hampers the main character's desires (Martin) to move forward.
Approach "Feedback" with seriousness, as the series aims to be serious and focuses on its dramatic side throughout.
Enjoy it.
For those who are interested.
Release Date
November 15, 2023
Where to Watch "Feedback"
Feedback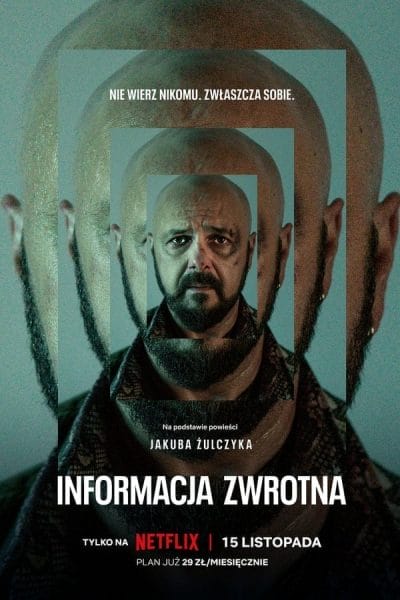 Name: Informacja zwrotna
Description: A former rock musician, battling addiction to alcohol, embarks on a poignant quest to locate his long-lost son. His eventful journey leads him through the intricacies of the human psyche's darker realms, intertwined with Poland's infamous reprivatization fraud, and haunting memories of the harm inflicted upon his family. Will he muster the courage to confront his tumultuous past and unlock the enigma behind his son's vanishing?
Seasons: 1
Country: Poland
Director(s): Leszek Dawid
Writer(s): Kacper Wysocki
Genre: Thriller, Drama
Actor(s): Arkadiusz Jakubik, Jakub Sierenberg, Dominika Bednarczyk-
Companies: Opus TV, Netflix