Chase Stokes est un acteur américain qui est devenu célèbre pour son interprétation de John B dans la série à succès Netflix Outer Banks. Né à Annapolis, dans le Maryland, le 16 septembre 1992, il commence sa carrière en tant que mannequin et apparaît dans diverses campagnes pour des marques comme Hollister et Abercrombie & Fitch. Puis il s'est aventuré dans le cinéma, la télévision et le théâtre où son talent s'est véritablement révélé.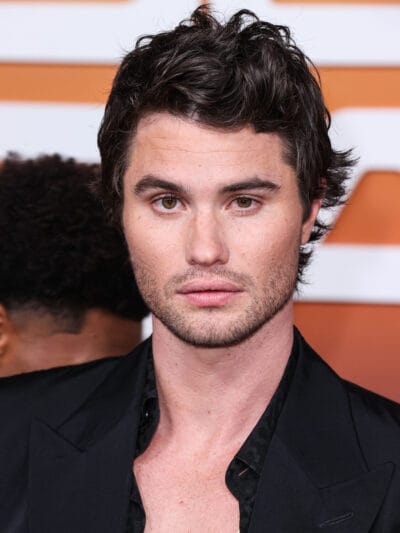 Chase a percé dans la série Netflix Outer Banks, où il jouait le personnage principal John B. Ses performances lui ont valu les éloges du public et de la critique, et l'ont même fait entrer dans la liste des hommes les plus sexy du magazine People. Avec son look charmant, ses yeux bleus perçants et son corps athlétique, il n'était pas difficile de comprendre pourquoi !
Depuis, Chase a joué dans d'autres projets comme le clip vidéo de Janelle Monae « PYNK », la série d'anthologie de science-fiction Into The Dark : Crawlers de Hulu et a également joué aux côtés d'Angelina Jolie dans Those Who Wish Me Dead de Paramount Pictures. Grâce à ces rôles, Chase a démontré un large éventail de talents d'acteur qui prouvent qu'il est plus qu'un joli visage.
En plus d'agir, Chase est également un philanthrope passionné qui soutient activement des organisations telles que le Boys & Girls Club Of America, la Garden Of Dreams Foundation et Bring Change To Mind. Il croit qu'il est de notre responsabilité de rendre à la société ce qu'elle nous a donné, que ce soit en faisant du bénévolat, en donnant de son temps ou de son argent – chaque contribution compte !
Bien que Chase aime travailler derrière la caméra et donner vie à l'art, il s'assure toujours d'avoir du temps pour lui afin de se détendre et de profiter de la vie ! Parmi ses passe-temps, citons la guitare et le piano, la cuisine, le cinéma, les sorties entre amis, les jeux vidéo, la randonnée, l'exploration de la nature, les voyages autour du monde, etc.
Il est clair que cet acteur talentueux a plus d'un tour dans son sac – Chase Stokes prouve que le travail acharné paie, quel que soit le domaine dans lequel nous poursuivons nos rêves !
Chase Stokes on Outer Banks, Living in a Parking Garage & Getting Fired from Everything