Breaking away from the traditional gallery experience, the House of African Art (HAART) is a new platform that showcases established and emerging artists from Africa and the diaspora. From 1-7 October, HAART presents its second exhibition, Seeing Sounds, at Copeland Gallery, Peckham. HAART's pop-up exhibition model, which launched in March 2019 with its inaugural exhibition The Next Wave, creates an engaging environment around visual arts, coupled with a public programme of performances, talks and events.
Showcasing a variety of artwork in which each artist explores the links between sound, music and creativity, Seeing Sounds is presented alongside a schedule of evening talks, spoken word poetry performances and live music. Exhibiting artists include Derrick Ofosu Boateng, Euan Roberts, Jumoke Sanwo, Moufouli Bello and Williams Chechet.
One of the works on show will be an audio-visual installation comprised of 40 select songs, texts and images by Jumoke Sanwo. The Playlist chronicles the last 40 years of the artist's life and explores the notion of the body as a storage device, instrumental for passing down stories and cultural traditions from one generation to the next.
Derrick Ofosu Boateng is a photographer born and based in Accra, Ghana. Driven by a desire to create works which showcase the vitality, joy and exuberance of the local people, Boateng captures stills of everyday life in Ghana and distorts the backgrounds with arresting color palettes, showing his hometown in a new light.
Euan Roberts is a London based artist of mixed cultural heritage (Afro-Barbadian and Scottish). Working primarily with acrylic on canvas and ceramics, his colourfully upbeat work is often contrasted with sometimes unsettling themes. Roberts' work focuses on imparting a feeling of optimism, hope and joy onto the viewer, opening them up and inspiring them to be creative.
Jumoke Sanwo is a Nigerian lens-based artist working in the medium of photography, in conjunction with text, video art and virtual reality. Sanwo's work often addresses concerns around African aesthetics as well notions of the self and identity, thereby fostering new narratives in the decolonization discourse.
Moufouli Bello is a multi-media artist who lives and works in Cotounou, Benin. Whilst her practice is primarily drawing and painting, Bello's use of media has diversified over time to include animation, installation, photography, sound and digital art. Bello's ongoing interest in issues surrounding identity have led her to study ideological structures and how traditions, culture, politics and now technology affect our perception of society, emotions and human behaviour.
Williams Chechet is a pop artist, graphic designer, illustrator and muralist who was raised in Kaduna in northern Nigeria and currently lives and works in Lagos, Nigeria. Chechet is interested in images that circulate in popular culture, focusing on symbols of Nigerian society through a pop art lens. In his recent projects, Chechet explores the faces and characters of northern Nigeria as well as the leaders, icons and images that have shaped Nigeria's political history.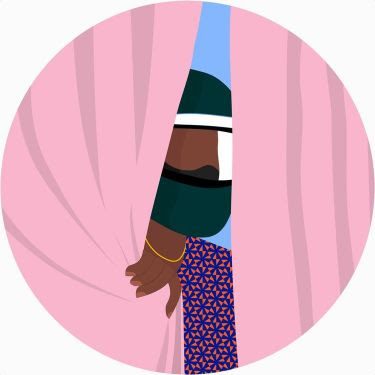 Website: www.houseofafricanart.com