– Gallery spaces and sculpture garden open with display of over 27 works by 11 contemporary artists
– Monthly discussion-based gatherings foster dialogue between contemporary art and other disciplines
– Interior designer Sebastian Herkner appointed to furnish Art Nouveau lakeside villa
Tina and Jan Wentrup, co-owners of Berlin's Wentrup Gallery, will open a new space in Hamburg, Germany, on 22 August 2021. Housed in a three-storey mansion with an outdoor sculpture garden, Wentrup am Feenteich will be a unique destination for art collectors, professionals and enthusiasts from across the world that fosters interdisciplinary exchange and dialogue in a sophisticated yet welcoming setting.
Situated in an Art Nouveau villa set on a serene lakeside, Wentrup am Feenteich is a new concept in the art world that aims to move beyond the conventional white cube environment. In addition to being a space for collectors to experience contemporary art of the highest calibre, it also facilitates encounters between visual art and other creative, cultural and academic fields.
The inaugural presentation in Wentrup am Feenteich's indoor galleries will feature: new creations by Nevin Aladag, David Renggli, Jan-Ole Schiemann, Sophie von Hellermann, Gregor Hildebrandt and Thomas Wachholz; alongside works by Hicham Berrada, Thomas Grünfeld, John McAllister and Gerold Miller. In the garden, new sculptures by Nevin Aladag and Gregor Hildebrandt will be on display together with works by Gerold Miller, Olaf Metzel and David Renggli.
This exhibition of over 27 works across the indoor and outdoor spaces will remain in situ until November. Thereafter, new presentations of artworks will rotate across the year, in a programme curated by Tina and Jan Wentrup, and can be visited by appointment.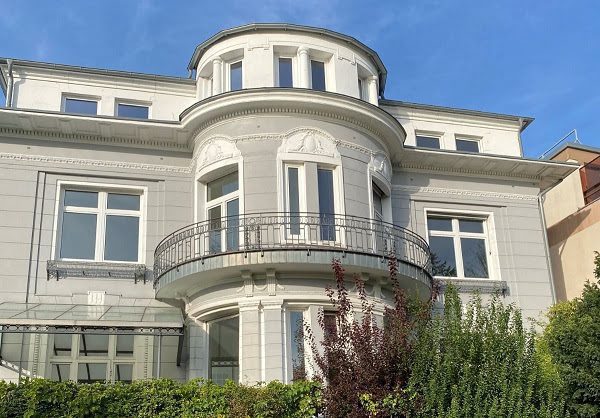 A series of intimate discussion evenings will bring together luminaries from art, design, architecture, science, philosophy, theatre, dance and more. The conversational environment will see creators, curators, directors, collectors and scholars contribute their diverse expertise, providing a convivial forum for dialogue and exchange of ideas.
Each based around a different subject or theme, these informal monthly gatherings will use the work of a particular artist as a starting point. The first, taking place in September, explores the relationship between art and music, with a focus on the artist Nevin Aladag.
Designer Sebastian Herkner has been appointed to craft the interiors of Wentrup am Feenteich. Herkner is a long-standing collaborator of Jan and Tina Wentrup, having designed their gallery in Berlin's Charlottenburg neighbourhood in 2019. Herkner will furnish the new space in Hamburg with signature items such as his Ona chair (designed for Freifrau Manufaktur) and his Savignyplatz table (designed for Man of Parts). The spaces will also feature lighting by the Italian brand iGuzzini.
Tina and Jan Wentrup, co-owners of Wentrup am Feenteich, say: "As we all adapt to a post-pandemic future, we wanted to create a new kind of meeting place for the art world, in which art and knowledge can be experienced differently. Wentrup am Feenteich's location and architectural environment urge viewers to consider art's relation to space and context. This is also a place for reflection, exchange and dialogue, where curious minds can be nourished by other creative disciplines, like performance, design and architecture, or by fields like science and philosophy."