Paris – Works by the greatest designers of the 20th century such as Line Vautrin, Jean Besnard, Alessandro Mendini and Ron Arad are amongst the standout lots of Bonhams Cornette de Saint Cyr Design sale on Wednesday 17 May in avenue Hoche, Paris. Leading the sale is a Rond Arad 'Pappardelle', designed 1992, produced 1995, which has an estimate of €60,000 – 80,000.
The sale also features an exceptional collection of more than 20 ceramics by Jean Besnard, a major ceramist of the Art Deco period. Known for the technicality of his work, particularly with his innovation of "crisp" enamel, which overturned traditional enamelling processes, Jean Besnard was able to reform the technique of 20th century ceramics in France. Colour plays a key role in his work, and the ceramist used a wide range of colours. Those pieces, authenticated by Patrick Wilson, author of the book dedicated to Jean Besnard, have estimates ranging from 800 to 6,000 euros.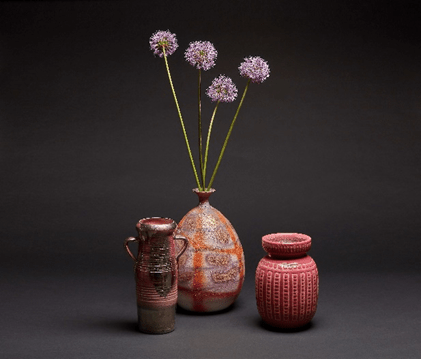 Jean Besnard, Ceramics. Estimate: €800 to €6,000. 
The sale also includes Contemporary Design with, among others, the architect and designer Ron Arad, known for his experimentation with the latest technologies and for his work with metal. In designing the Pappardelle chair, he used the properties of materials and manufacturing techniques: woven stainless steel (used for conveyor belts in the food industry) enables him to create a resistant and flexible structure like this "Narrow Pappardelle" carpet-chair created in 1992. This 1995 model, made in only 20 pieces, is estimated between 60,000 and 80,000 euros.
Finally, the sale will feature works that are rare on the market by leading Italian designers such as Tobia and Afra Scarpa, Alessandro Mendini, and Marcello Mariotti.
Tobia Scarpa and Afra Bianchin are leading figures in modern Italian architecture, working with a variety of materials and media: from glass to furniture, lighting, interior and architectural design, their pieces emphasise elegance and comfort and are rooted in modernist design. The "Africa" chairs have a walnut frame with high slats ending in a wide leaf, fixed under the seat (estimate: €15,000 – €20,000).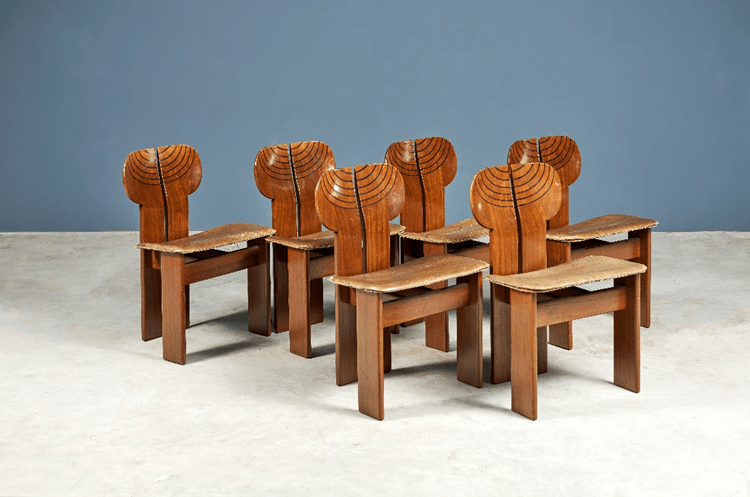 Alessandro Mendini, famous Italian architect, and designer who sought to break away from international modernism, used colour to revive everyday objects. A unique prototype of the designer's floor lamp, in yellow, blue, red, and green, made in 1985 for the "Black Out" project and never seen before – other than in a photograph showing the designer on his stand at the Milan Triennale – is estimated between €15,000 and €20,000.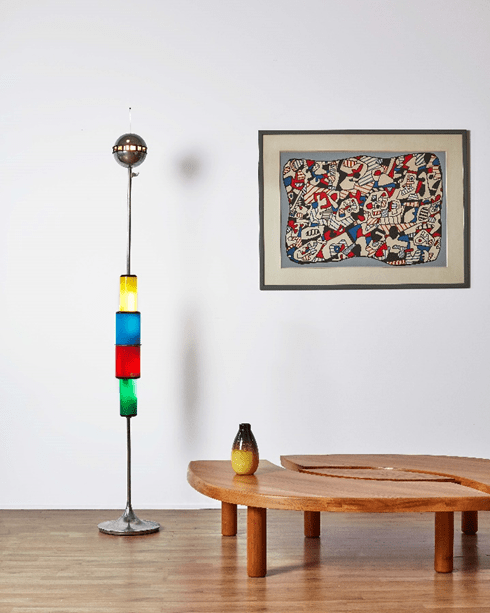 Marcello Mariotti, a Florentine sculptor, was particularly attracted to wooden and metal pieces. During his travels to Madrid and New York, he was fascinated by the paintings of the Renaissance painter Luca Cambiaso (1527-1585) who, in addition to his classical drawings, produced highly stylised compositions in a spirit that was both cubist and surrealist. In 1982, Marcello Mariotti designed a desk and a cabinet depicting a seated man and woman. From the collection of art lover Thomas Olbrich, two anthropomorphic cabinets, "Uomo" and "Donna", made in 1982, are estimated at between €9,000 and €11,000 each.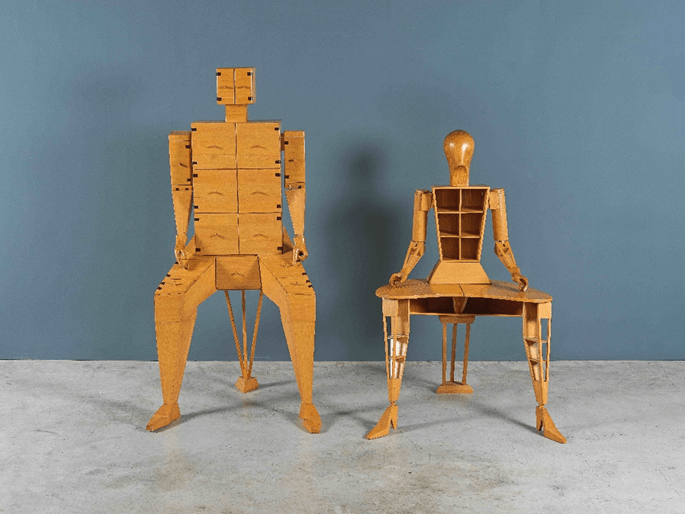 Claire Gallois, specialist in the design department at Bonhams Cornette de Saint Cyr in Paris, said: "This auction features rare pieces signed by great Italian designers such as Alessandro Mendini, Tobia Scarpa and Afra Bianchin and Marcello Mariotti, as well as international designers such as Ron Arad, Line Vautrin, and François-Xavier Lalanne. Jean Besnard's exceptional collection of Art Deco ceramics is particularly remarkable and accessible thanks to affordable estimates."