Clock is a film directed by Alexis Jacknow starring Dianna Agron.
Clock is an elegant horror film that, narrated at a leisurely pace, manages to engage the viewer above all thanks to a brilliant performance by Dianna Agron, who knows how to seize the opportunity of a juicy role in a horror film.
And that's not something usual.
Movie Review
Subtle and very well-paced, directed, and acted. It tells exactly what it wants and in the best possible way and Alexis Jacknow shines more in the direction than in the script, in a short story that, in a way, gives us the vibes of a short film with higher pretensions.
Clock performs very well in its visual aspect and set design (well done there, as the protagonist is a prestigious designer). Very appreciable in terms of coloring, and regarding many of the designs of the fertility clinic and the appropriate use of contrasts.
A film that doesn't complicate itself and loses quality in terms of the secondary characters, who are hardly developed more than as spectators of "the idea" of the woman.
There is a lot of strength in the images, in the confusion between reality and paranoia. It doesn't fall into stridency or in the easy use of gruesome images that impact us (they already did it in the first sequence, which soon provided the Hitchcock touch).
A good psychological thriller, entertaining, but it doesn't go beyond that and all the reflections on motherhood and its satire are somewhat lost in the anecdotal of, in the end, a film that we won't remember for too long.
It entertains, it doesn't impact.
Release Date
April 28, 2023
Where to Watch Clock
Director
The Cast
Clock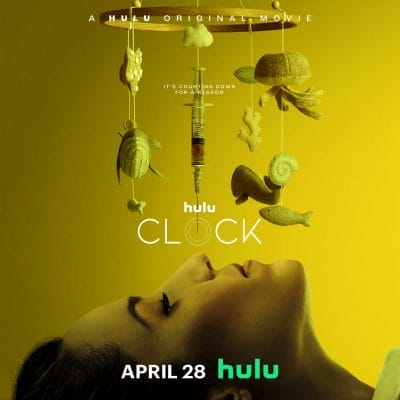 Movie title: Clock
Movie description: On the eve of her 38th birthday, a woman desperately attempts to fix her broken biological clock.
Date published: April 30, 2023
Country: United States
Duration: 91 mins
Director(s): Alexis Jacknow
Writer(s): Alexis Jacknow
Cinematography: Martim Vian
Music: Stephen Lukach
Actor(s): Dianna Agron, Jay Ali, Melora Hardin, Saul Rubinek, Rosa Gilmore, Grace Porter, Alexis Jacknow, LaVar Veale
Genre: Horror
Companies: 20th Digital Studio, Hulu
Our Opinion
It entertains, it doesn't impact.