Beau is Afraid is a 2023 Canadian movie directed and written by Ari Aster, with music by The Haxan Cloak and cinematography by Pawel Pogorzelski. The movie has a running time of 179 minutes and stars Joaquin Phoenix.
It is a film that careens madly between dark comedy and surrealistic horror.
Release Date
April 21, 2023
Beau is Afraid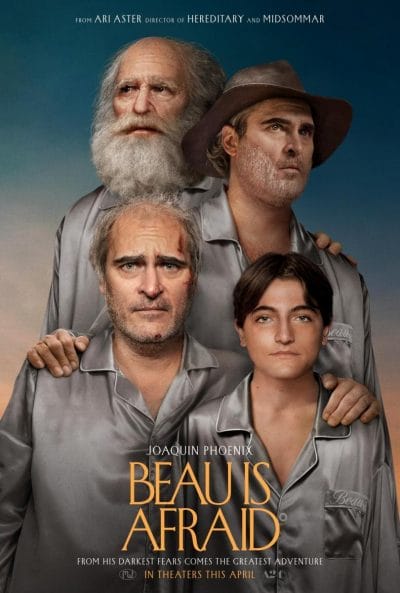 Movie title: Beau is Afraid
Movie description: A paranoid man embarks on an epic odyssey to get home to his mother.
Date published: April 27, 2023
Country: Canada
Duration: 179 mins
Director(s): Ari Aster
Writer(s): Ari Aster
Cinematography: The Haxan Cloak
Music: Pawel Pogorzelski
Actor(s): Joaquin Phoenix, Nathan Lane, Amy Ryan, Armen Nahapetian, Parker Posey, Patti LuPone, Kylie Rogers, Stephen Henderson
Genre: Horror, Comedy
Companies: A24, Square Peg, IPR.VC, Access Industries, A24